Italian Grinder Sandwich
Prep Time: 10 MIN | Cook Time: 25 MIN | Servings: | Calories: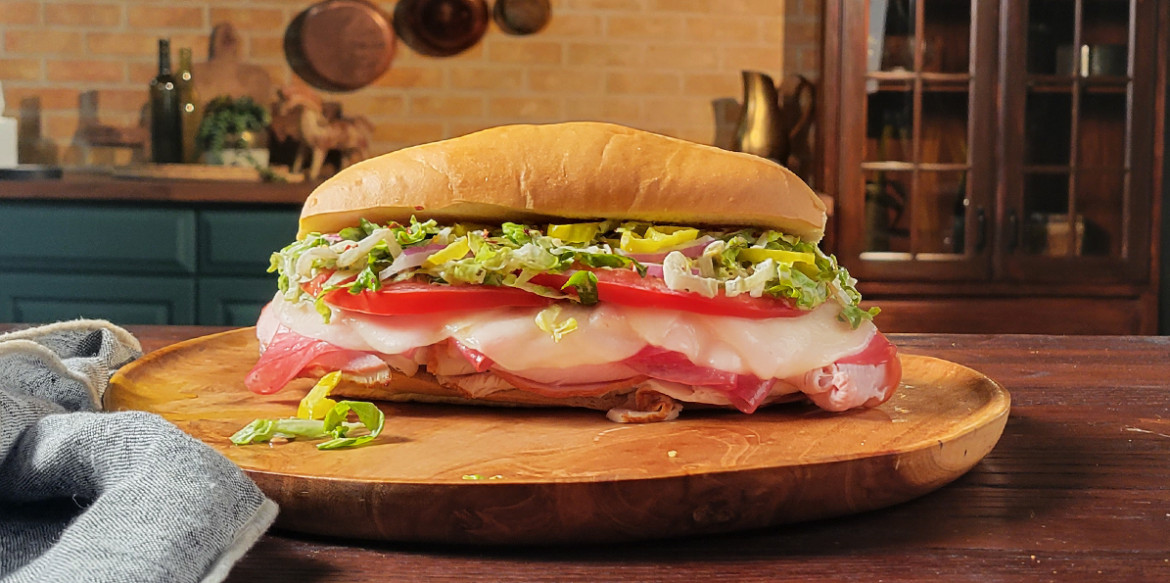 ---
An Italian Grinder Sandwich with homemade slaw. The sandwich is heated to melt the cheese
and is finished with a homemade slaw.
Ingredients
1/2 cup Mayo
1/2 tbsp Red Wine Vinegar
1/2 tsp Salt
1 tsp Dried Oregano
1 tsp Italian Seasoning
½ tsp Red Pepper Flakes
1 tsp Garlic
⅓ cup Pepperoncini Peppers
¼ cup Red onion
3-4 cup Iceberg Lettuce- Shredded
2 large Hoagie buns and/or Italian Bread
1/2 lb Salami
1/2 lb Ham
1/2 lb Honey Roasted Turkey Breast thinly cut
4 ounces Prosciutto (Optional)
2 med Tomatoes
Directions
To make the Grinder Slaw:

In a large bowl add the mayonnaise, red wine vinegar, salt, dried oregano, Italian Seasonings, red pepper flakes, garlic, pepperoncini peppers, red onion, and parmesan. Stir until combined. Next, pour in the shredded iceberg lettuce and, using tongs, toss until the salad is thoroughly coated. Set aside.
While the Grinder slaw marinates, prep the Grinder Sandwich by preheating your toaster oven,
oven or air fryer to 425 degrees.
Slice the hoagie roll or Italian Bread through the middle the long way.
Layer the sliced cheese and deli meats on one half of the Hoagie and toast for 8-10 minutes until the cheese is
bubbly and bread is toasted.
Slice the tomatoes and add on top of the baked deli meats.
Top the sliced tomatoes with the Grinder slaw and additional shredded parmesan
or Italian blend cheese and top with the other half of the Hoagie.
---