Hasselback Reuben Bread Recipe
Prep Time: 15 Min | Cook Time: 30 Min | Servings: | Calories: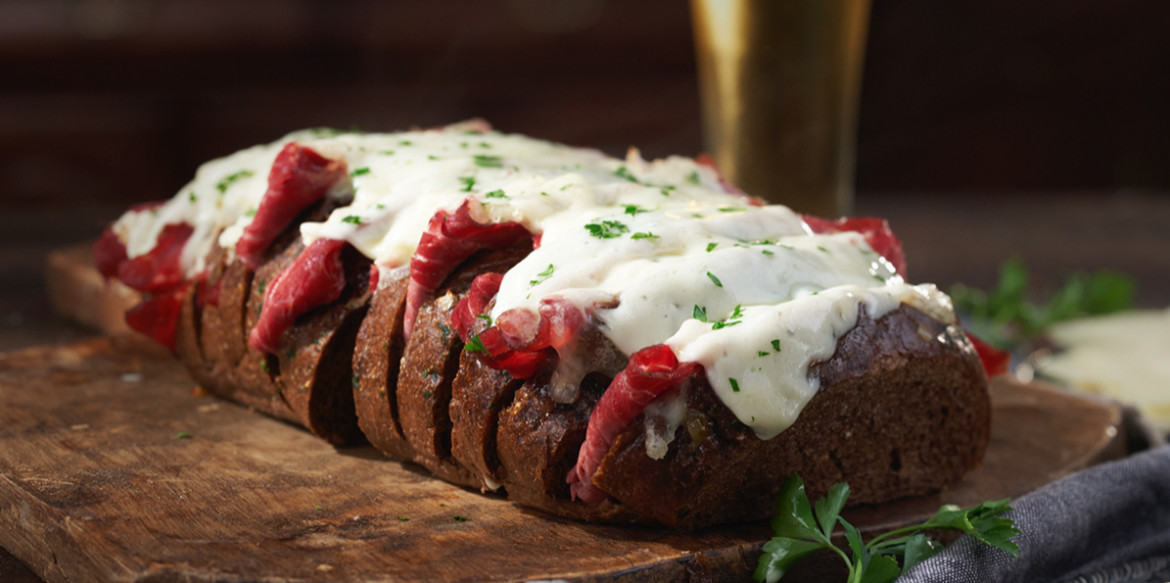 ---
Pumpernickel bread is sliced, brushed with melted garlic butter and thousand island dressing then stuffed with Sargento® Swiss Cheese, deli corned beef and sauerkraut, then baked until crisp and gooey.
Ingredients
1 loaf Pumpernickel bread, sliced into 13 slices ¾ through
2 Tbsp. Butter, melted
½ tsp. Granulated garlic
1 Tbsp. Parsley, finely chopped
½ cup 1000 island dressing
¾ lb. Deli corned beef, thinly sliced
½ cup Sauerkraut, drained
Directions
Pre-heat oven to 375 degrees. In a small bowl, combine butter, garlic and parsley. Using a pastry brush, brush each side of bread with butter mixture.
Spread dressing onto each slice of bread.
Slide 2 half slices of cheese in between the first 2 slices of bread. Fold one slice of corned beef in half lengthwise, then in half crosswise. Slide folded slice in between the first 2 slices of bread. Spoon about 1 teaspoon of sauerkraut in between folds of corned beef. Repeat with remaining ingredients until entire loaf is stuffed.
Wrap loaf in heavy duty foil that has been sprayed with non-stick spray.
Transfer loaf to a large baking sheet. Bake for 20 minutes. Unwrap and bake an additional 10 minutes or until cheese is completely melted. Transfer to a platter or board and serve.
---