Three Cheese Vegetable Lasagna
Prep Time: 25 min | Cook Time: 45 min | Servings: 10 | Calories: 245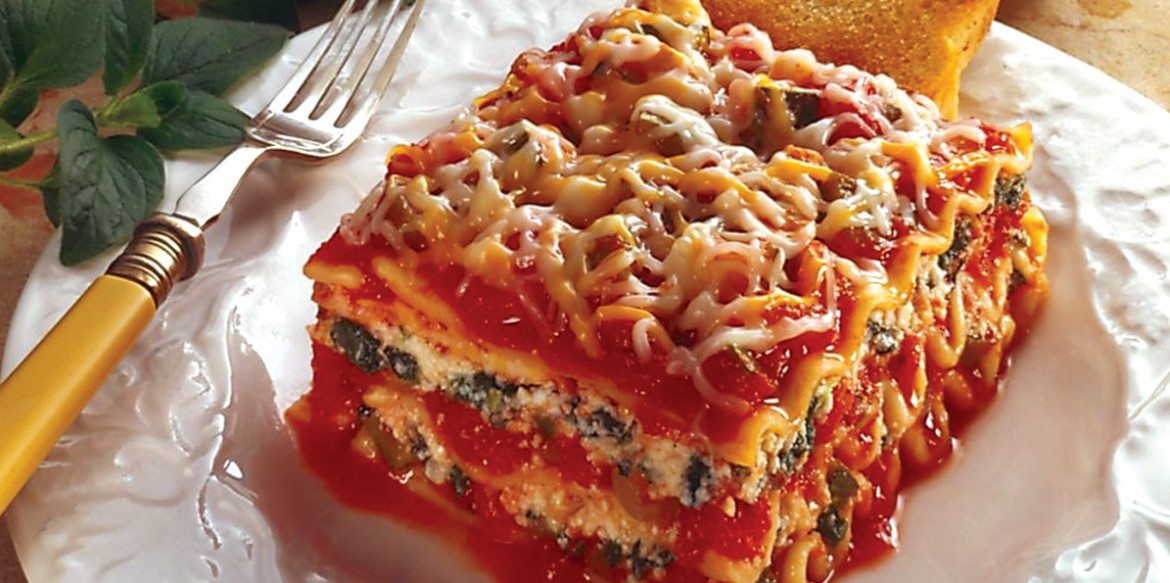 ---
Make this lasagna and indulge in the savory flavors of sautéed vegetables layered with tender noodles and a combination of cheeses including Sargento® Shredded 4 Cheese Pizzeria along with fresh herbs, spices and deliciously tender mushrooms.
Ingredients
1 tsp. olive oil
1 large onion, chopped
3 cloves garlic, minced
1 can (28 oz.) no-salt-added tomato puree
1 can (14-1/2 oz.) no-salt-added tomatoes, undrained and chopped
2 cups sliced fresh mushrooms
1 zucchini, diced
1 large green bell pepper, chopped
2 tsp. dried basil
1/2 tsp. crushed red pepper flakes
1/2 tsp. dried oregano
1 tsp. salt (optional)
1 tsp. sugar (optional)
1 pkg. (10 oz.) frozen chopped spinach, thawed and squeezed dry
2 egg whites
8 oz. lasagna noodles, cooked and drained
Directions
Spray large skillet with nonstick vegetable spray. Heat olive oil in large skillet over medium heat. Add onion and garlic; cook 5 minutes; stirring occasionally. Add tomato puree, tomatoes, tomato liquid, mushrooms, zucchini, bell pepper, basil, red pepper flakes, oregano and salt and sugar, if desired. Heat to a boil; reduce heat, cover and simmer 10 minutes.
Combine Ricotta cheese, spinach, egg whites and Parmesan cheese in bowl; set aside. Spread 1 cup tomato sauce mixture in bottom of 13x9-inch baking dish. Layer 3 lasagna noodles over sauce. Top with half the Ricotta cheese mixture and 2 cups sauce. Repeat layering with 3 more lasagna noodles, remaining Ricotta mixture and 2 cups sauce. Sprinkle with 3/4 cup Pizza Double Cheese. Top with remaining lasagna noodles and sauce.
Cover with foil; bake in preheated 375°F oven 30 minutes. Uncover; bake 15 minutes more. Sprinkle with remaining 3/4 cup Pizza Double Cheese. Let stand 10 minutes before serving.
---