Alfredo with Chicken and Broccoli
Prep Time: | Cook Time: 25 min | Servings: 6 | Calories: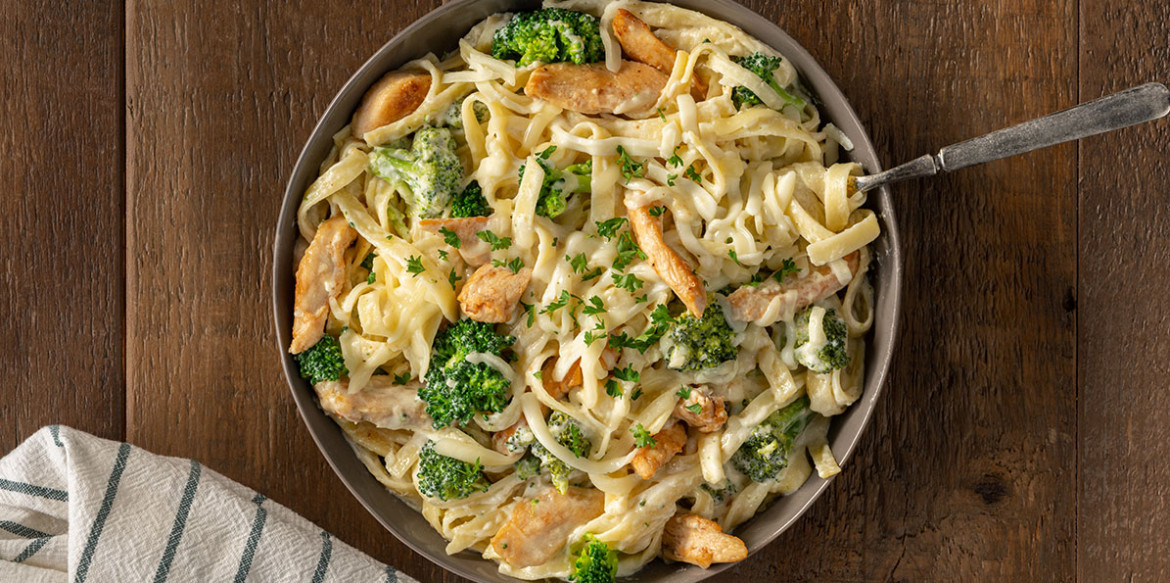 ---
When you want to pull together a decent dinner but don't have a lot of time, this alfredo recipe is not only conveniently simple, it's a real crowd-pleaser. Sargento® Mozzarella cheese teams up with heavy cream and a little bit of butter to create an irresistibly rich, smooth sauce that coats the pasta, chicken and broccoli in cheesy goodness.
Ingredients
1 lb. box of Fettuccini or Linguini
3 Tbsp. Butter
1 lb Frozen chicken breast, thawed
2 Cloves of garlic or ¼ teaspoon of garlic powder
1 ½ cups Heavy cream or half and half
2 cups of Sargento® Mozzarella cheese, save 1/2 cup for serving
1 (12oz.) bag Frozen broccoli, thawed
Directions
Cook pasta in salted water until soft, strain, set aside.
In a large skillet (medium heat) add butter, sauté chicken (about 10 minutes); add garlic near the final minute. Set aside.
In same skillet add cream, broccoli and cheese. Stir constantly, until cheese is incorporated and broccoli is tender. Add cooked chicken and strained noodles to the sauce (remove from heat, cover and let stand for two minutes)
Serve garnished with parsley, salt & pepper and more cheese!
---