Rice & Tomato Bake
Prep Time: 10 Min | Cook Time: 50 Min | Servings: | Calories: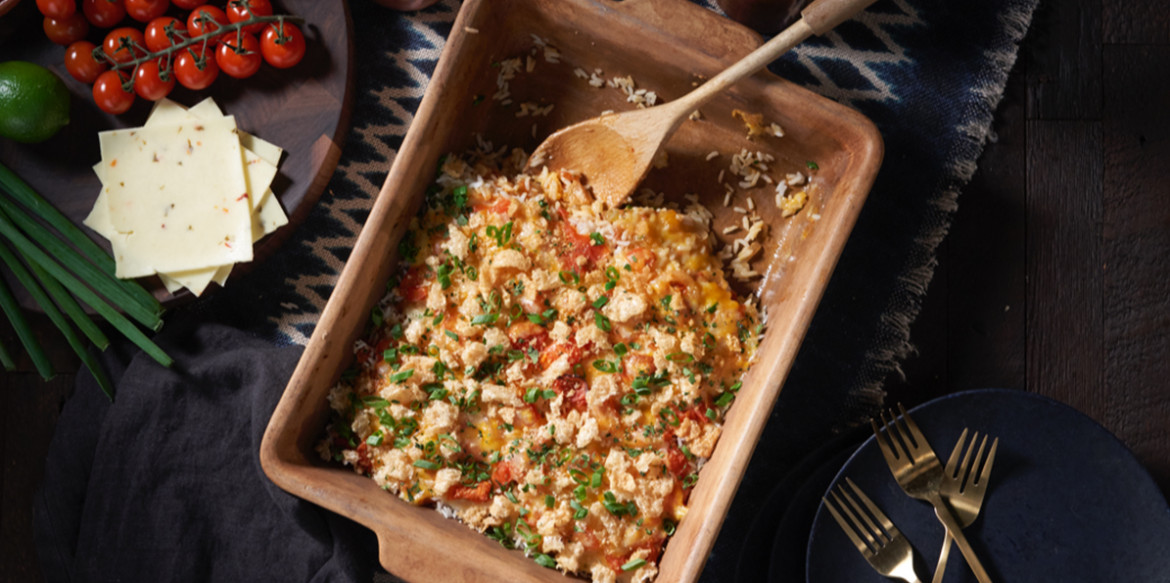 ---
Cooked white rice, is layered with traditional Colombian Guiso, an adobo type sauce, Sargento® Cheese, baked and topped with crispy pork rinds. If tomatoes are out of season, resort to using canned- which are preserved when tomatoes are actually at their peak.
Ingredients
2 cups long grain white rice
2 tablespoons olive oil
2 medium yellow onions, thinly sliced
2 garlic cloves, sliced
6 medium scallions, sliced, white and light green parts only- reserve dark green section for garnishing
1 (28oz) can chopped tomatoes or 8 very ripe medium plum tomatoes cored and chopped
1 tablespoon ground panela or dark brown sugar
2 teaspoons kosher salt
1 teaspoon ground achiote
1 teaspoon freshly ground black pepper
1/2 cup chopped cilantro leaves
1 cup crushed pork rinds
Directions
Preheat oven to 375F. Lightly coat a 9"x13" baking dish with non stick cooking spray.
Bring a large pot of water to a boil. Add rice and cook, stirring now and then to prevent from the grains sticking to the bottom. Bring back to a boil and cook for 10 to 12 minutes or until rice is partially cooked but is still a bit firm. Strain through a fine mesh sieve and reserve.
Meanwhile, pour olive oil into a medium saucepan and heat over medium high. Add onions and cook stirring now and then, until softened, 6 to 7 minutes. Add garlic and scallions and cook until the garlic is fragrant, 1 to 2 minutes. Pour in tomatoes, panela, season with salt, achiote, pepper and stir to combine. Bring to a boil, lower the heat and allow the guiso sauce to simmer for about 5 minutes. Turn off the heat.
Spread 1/3 of the cooked rice to the bottom of the prepared baking dish. Top with half of the pepper jack cheese and ladle 1/3 of the sauce. Repeat and finish with a layer of rice and finishing with a layer of the Colby-Jack cheese.
Cover with aluminum foil and bake in the preheated oven for 25 to 30 minutes.
Carefully remove the foil, turn the oven up to broil and watching carefully, broil until the cheese forms a nice and brown crust.
Remove from the oven, top with the cilantro, crushed chicharron, reserved scallions and serve.
---