Green Banana Mash with Soft Boiled Egg
Prep Time: 5 MIN | Cook Time: 25 MIN | Servings: | Calories: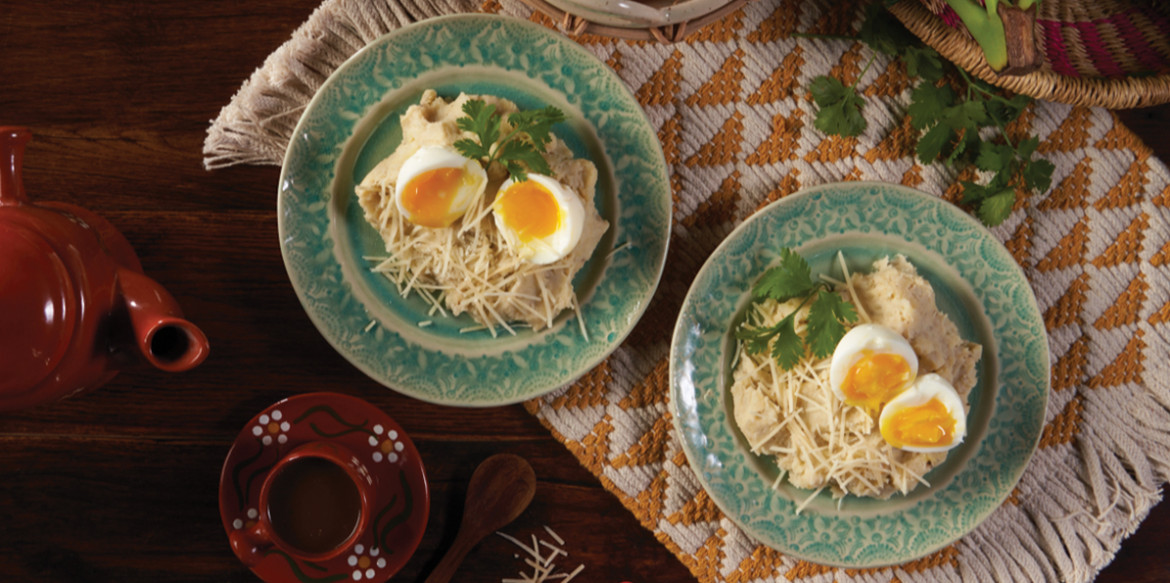 ---
Cooked green bananas are pureed with Sargento's 4 Cheese Mexican, butter and served with a soft boiled egg. This recipe is inspired by a breakfast in the Magdalena region of Colombia. Its' Spanish name is cayeye and it is simply delicious. Buy the green bananas no more than a day ahead.
Ingredients
8 medium green bananas
kosher salt to taste
2 tablespoons of un-salted butter
1 tablespoon dark brown or coconut sugar
1 tablespoon rice wine vinegar or fresh lime juice
6 large organic eggs
1 tablespoon extra virgin olive oil plus for drizzling
Freshly ground black pepper to taste
1/2 cup finely chopped cilantro leaves
Directions
Place peeled bananas in a medium pot. Cover with water, season liberally with salt, and bring to a boil. Reduce heat to medium low and cook until soft, about 18 to 20 minutes.
While the bananas are cooking, bring a medium saucepan of salted water to a boil (large enough to fit all the eggs comfortably.) Once the water is ready, carefully lower the eggs in, one by one using a slotted spoon. Set the timer to 6 minutes for a jammy center (firm white and creamy yolk) or  8 to 10 minutes for a firmly cooked egg. Remove the eggs and run under cold water to stop the cooking. Peel the eggs once they are cool enough to handle and reserve.
Remove the cooked bananas from the pot, reserving 1/2 cup of the cooking liquid. Drain, transfer to a bowl and  puree with the help of a potato masher. Mix in the cheeses, butter, sugar, vinegar, the reserved cooking liquid and season with salt and pepper. Stir well so that all ingredients are integrated. The Cayeye should have the texture of creamy mashed potatoes.
When ready to serve, divide cayeye into bowls,  top each one with an egg cut in half, a drizzle of olive oil, salt and pepper, cilantro leaves and a sprinkle of Sargento's Parmesan cheese. Enjoy!
---