Cheesy Gaucho Sandwich
Prep Time: 25 Min | Cook Time: 45 Min | Servings: | Calories: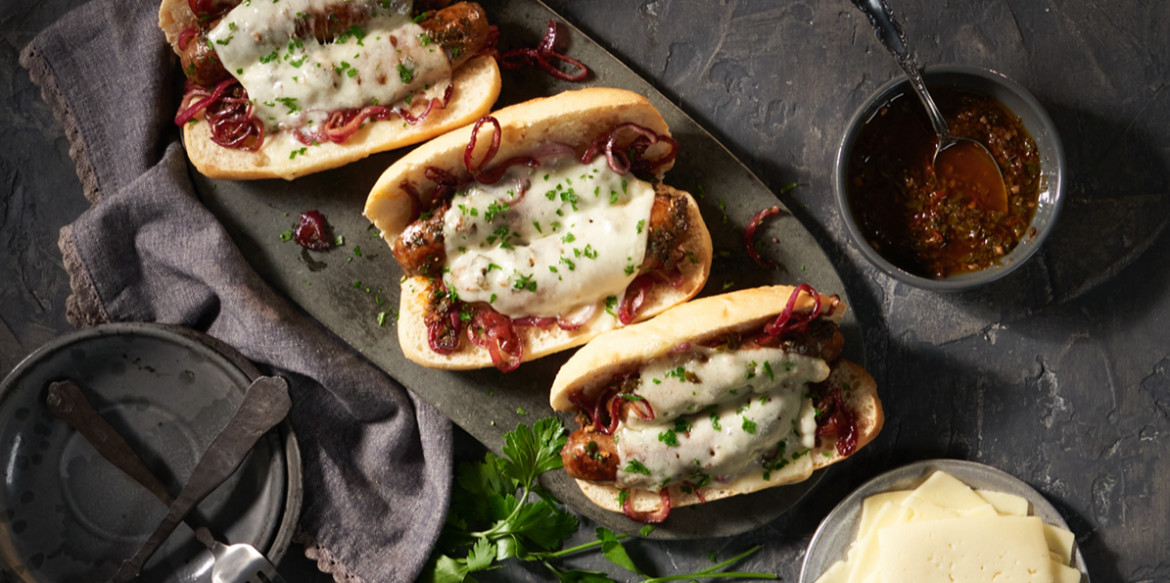 ---
Hearty Italian sausages are layered on baguettes and and topped with caramelized onion, chimichurri sauce and Sargento® Havarti cheese.
Ingredients
SPICY CHIMICHURRI:
1 bunch finely chopped Parsley
2 cloves garlic minced
2 Tbsp. dried Oregano
6 Tbsp. Red wine vinegar
2 tbsp minced chipotle peppers in adobo
¼ cup olive oil
½ cup Sunflower oil
Salt and pepper to taste
CARAMELIZED ONION:
2 Tbsp. Unsalted butter
2 cups thinly sliced red onions
2 Tbsp. Sugar
2 Tbsp. Balsamic vinegar
TO SERVE:
4 links Italian sausage, cooked
4 (6 in.) Italian style rolls or Baguettes
Directions
For the spicy chimichurri sauce: Mix parsley, garlic, oregano and vinegar, place in the microwave for 2 minutes, remove from microwave, cover with plastic wrap, and let stand until completely cool.

Add chipotle peppers, olive and sunflower oil and mix thoroughly, season with salt and pepper to taste. (This sauce can be made 2 days ahead and will keep for up to 4 weeks in the refrigerator)
For the caramelized onions: Melt butter in a skillet on medium heat and sauté onions until translucent, add sugar, balsamic vinegar and mix until sugar is completely dissolved, lower heat to low and cook onions until caramelized and the liquid has evaporated mixing constantly.
To serve: Split bread rolls in half lengthwise, fill with two halves of sausage each, top with each roll with 2 slices of cheese, broil in toaster oven until cheese is completely melted, remove from oven, and add caramelized onions and chimichurri sauce to taste.
---