Cheesy Beef Alambre
Prep Time: 20 Min | Cook Time: 15 Min | Servings: | Calories: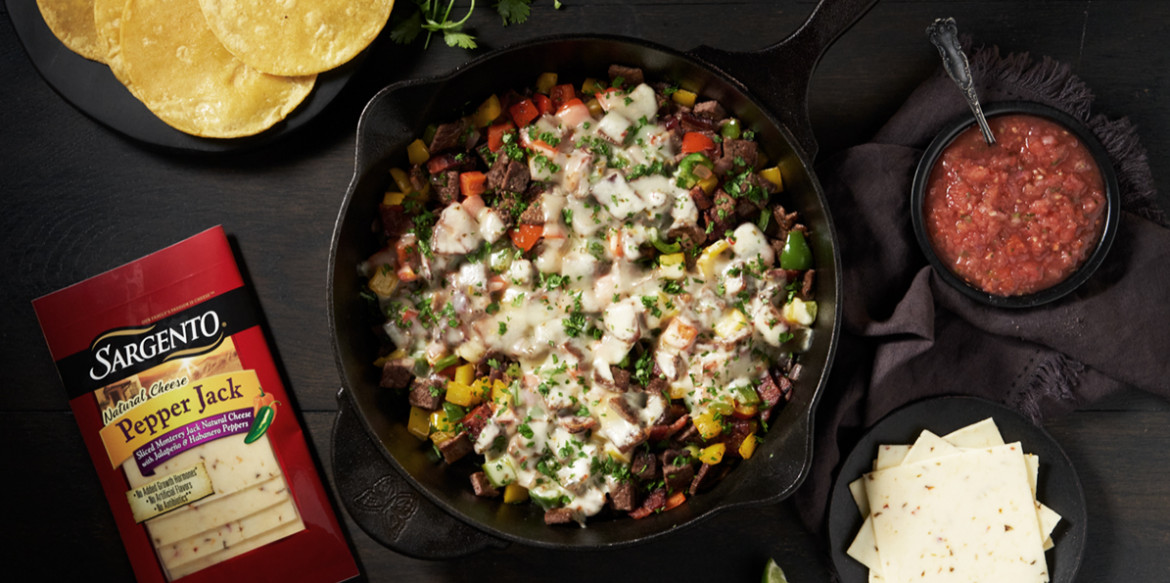 ---
Steak, onion, garlic and peppers are sauteed and topped with Sargento® Pepper Jack Cheese Slices. Pop it in the oven until melty!
Ingredients
2 Tbsp. Vegetable oil
4 strips Smoked bacon
¾ cup chopped Red onion
1 clove garlic minced
¾ cup chopped Yellow bell pepper
¾ cup chopped Green bell pepper
¾ cup chopped Red bell pepper
1 lb. thinly sliced Beef Round tip steak
Salt and Pepper to taste
2 Tbsp. chopped Cilantro
1 cup red or green salsa
12 (6-inch) corn or flour tortillas
4 Limes cut into thirds
Directions
Heat oil in a skillet (preferably cast iron), add bacon and cook at medium heat until brown and crispy, remove bacon from skillet and drain on paper towel. In the same skillet sauté onion garlic and peppers for 3 minutes and remove from skillet.

Increase skillet to high heat and add beef and sear on both sides until a golden crust is formed, remove from heat, and cut into ½ in. squares. Return beef to skillet, and add the cooked bacon and vegetables, season with salt a pepper to taste. Lower heat to low, spread the cheese slices over the beef, cover with lid, and wait until the cheese is melted completely. Remove from heat.
Uncover skillet, sprinkle with cilantro, and serve with salsa, warm tortillas, and lime.
---