Carne Asada and Cheese Broiled Potatoes
Prep Time: 20 Min | Cook Time: 1 Hr 30 Min | Servings: | Calories: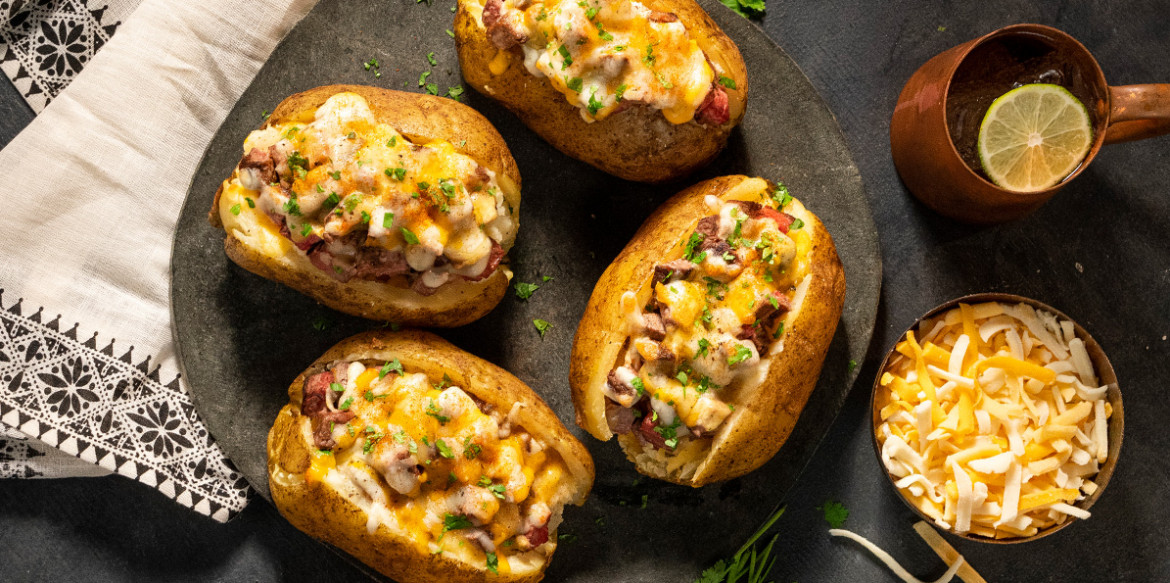 ---
Broiled potatoes are topped with tender carne asada and Sargento® 4 Cheese Mexican and baked until melty!
Ingredients
CARNE ASADA:
½ cup light beer
½ Tbsp yellow mustard
1 Tbsp Worcestershire sauce
2 Tbsp lime juice
1 clove garlic minced
3 Tbsp onion minced
½ tsp paprika
2 Tbsp Vegetable oil
1 lb flank steak
salt and pepper to taste
POTATOES:
4 large russet potatoes cooked
2 Tbsp melted butter
4 (12 x 12 in) squares heavy duty aluminum foil
4 Tbsp softened butter
4 Tbsp sour cream
Directions
For the carne asada: In a bowl combine; beer, mustard, Worcestershire sauce, lime juice, garlic, onion, paprika, oil, season with salt and pepper to taste. Pour marinade over the meat and distribute evenly, cover and marinate for 1 hour in the fridge. Grill meat to desired doneness and cut into small cubes.
For the broiled potatoes: Lightly pierce potatoes all over with a fork. Individually place each potato at the center of aluminum foil. Brush each potato with melted butter and season with salt and pepper to taste. Wrap each potato in the foil and seal tightly. Place the potatoes on the grill over medium heat and cook for one hour or until tender. Remove from the grill and carefully unwrap the foil and cut 3-4 lengthwise slits in the top of each.
Scoop out flesh from center of each potato into a medium bowl, add butter, sour cream, half of the cheese, season with salt and pepper to taste and mix thoroughly. Spoon filling back into each potato, mounding the carne asada (grilled meat) on top. Sprinkle with remaining cheese and return to grill until cheese is melted, about 5 minutes. Serve.
---