Chicken & Cheese Aztec Cake
Prep Time: 35 Min | Cook Time: 60 Min | Servings: | Calories: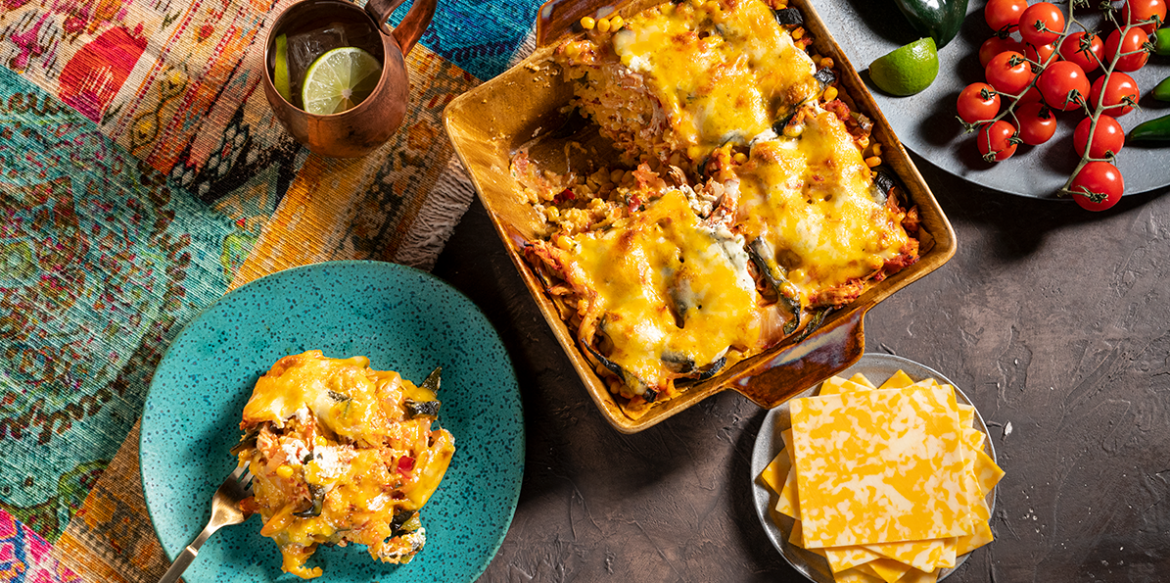 ---
Tortillas, sautéed veggies and plenty of Sargento® Cheese Slices are layered and then baked until melty.
Ingredients
For the Red Chicken Stew:
1 Serrano chili pepper, stems removed and seeded
2 Guajillo chili peppers, stems removed and seeded
2 cloves garlic
4 cups water
6 roma tomatoes
2 Tbsp vegetable oil
1 ½ cups onion sliced
1 ½ cups poblano chili pepper strips (flame broiled, peeled, and seeded)
1 cup corn kernels
2 cups chicken breast cooked and shredded
Salt to taste
For the Aztec Cake:
½ cup vegetable oil
12 corn tortillas
1 cup sour cream
1/2 cup whole milk
Salt and pepper to taste
2 Tbsp parsley chopped
Directions
Place chili peppers and garlic in a pot with water and salt, boil for 5 minutes, add tomatoes and simmer until skins start to burst. Remove from heat and leave cool. Peel tomatoes, place in blender along with chili peppers, garlic, and blend until smooth. In sauce pan heat oil, sauté onion until translucent, add poblano strips, corn kernels and cook for 2 more minutes, add red salsa, chicken, and simmer for 5 minutes, season with salt to taste.
Combine sour cream, milk, salt, pepper and parsley in a bowl and set aside.
Preheat oven to 350 °F. Heat oil in skillet and briefly fry each tortilla 10 second per side, remove from oil, drain on paper towels, and cut 6 tortillas in half. In an 8 x 8-inch baking dish, place one tortilla half on each side (cut side out) and one whole tortilla in the middle, pour 1/3 of chicken stew, and then cover with a layer of tortillas, drizzle with 1/3 cup sour cream mixture and 3 slices of cheese, repeat tortilla, stew, sour cream, and cheese layering twice more add 1 extra slice of cheese on the last layer (4 slices). Bake for 40 – 45 minutes until cheese is nicely browned.
---