Teriyaki Turkey Burger Recipe
Prep Time: 15 min | Cook Time: 15 min | Servings: 4 | Calories: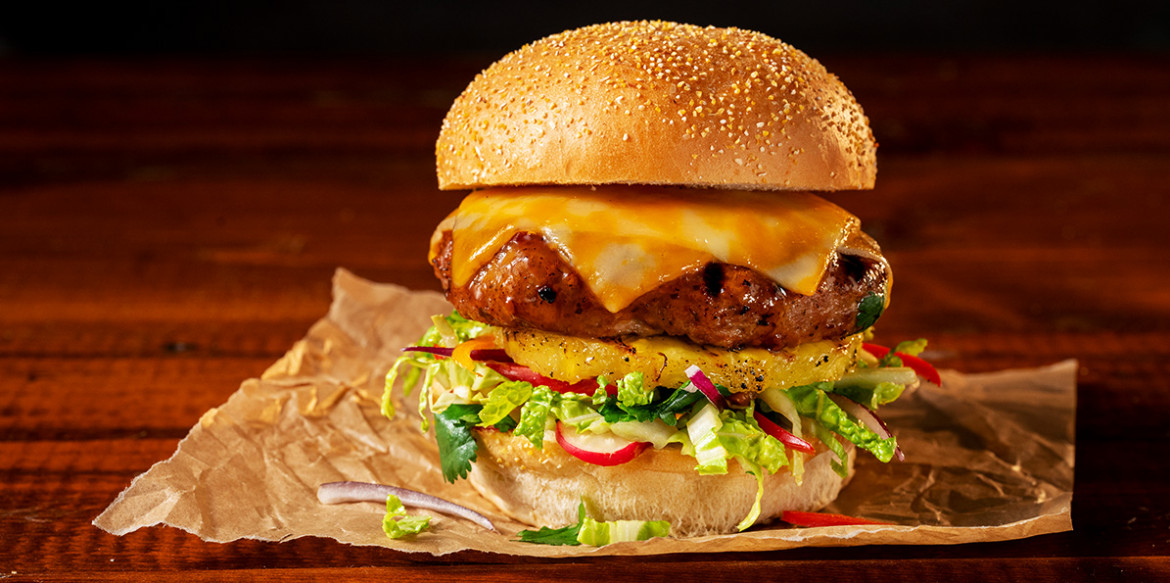 ---
Teriyaki flavored ground turkey is formed into patties, then grilled and served on buns with a Hawaiian slaw, grilled red pepper, Sargento® Sliced Colby-Jack Cheese and a drizzle of teriyaki sauce.
Ingredients
¼ tsp. Fresh ground black pepper
4 Split Pretzel buns
4 slices Pineapple, core removed
2 Tbsp. Chopped red pepper
¼ cup Red onion, cut into thin strips
2 small Radishes, thinly sliced
1 Tbsp. Cilantro leaves
1 cup Nappa cabbage, chopped
20 ozs. Ground turkey(85 % lean)
¼ tsp. Sea salt
1 tsp. White wine vinegar
1 Tbsp. Extra virgin olive oil
2 Tbsp. Fresh pineapple juice from above
1 clove Garlic, minced
2 Tbsp. Teriyaki glaze
¼ cup Breadcrumbs
1 lg. Egg, beaten
Directions
Pre-heat grill. In a large bowl, combine turkey and next 4 ingredients. Form into 4 equal patties. Set aside while preparing slaw.
For slaw, combine pineapple juice and next 4 ingredients in a small glass jar with a screw top lid. Shake vigorously until thickened slightly. Combine dressing, cabbage and next 4 ingredients in a medium bowl. Toss to combine. Set aside while grilling burgers.
To prepare burgers, Spray burgers with non-stick spray. Place burgers on hot grill and cook for 5-6 minutes per side or until juices run clear. Place 2 slices of cheese on each burger just before removing from grill. Let rest for 5 minutes.
Grill pineapple slices for 1-2 minutes per side until lightly charred. Set pineapple aside. Spoon slaw onto bottom buns. Place burgers over slaw. Top with pineapple and bun top. Serve.
---