Spicy Southwest Smash Burger
Prep Time: 45 Min | Cook Time: 15 Min | Servings: | Calories: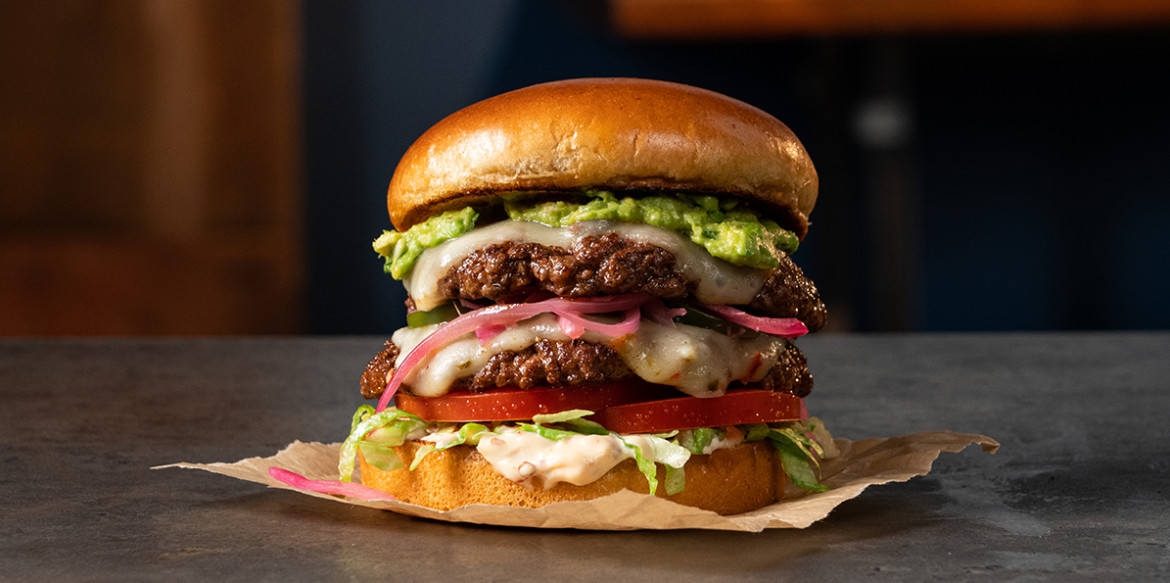 ---
Two smash burgers are topped with Sargento® Pepper Jack Cheese Slices, fresh guacamole, spicy pickled red onion, chipotle mayo, shredded lettuce and sliced tomato on a grilled brioche bun.
Ingredients
FOR PICKLED RED ONION:
2 cups Water
1/2 cup Apple cider vinegar
1/4 cup Sugar
1 tsp. Salt
1/4 tsp. Crushed red pepper flakes
1 large Red onion, cut into strips
1 large Jalapeno pepper, thinly sliced
2 cloves Garlic, smashed
FOR GUACAMOLE:
1 lg. Avocado, halved, pit removed
1 clove Garlic, minced
1/2 med. Lime, cut in half
2 tsp. Cilantro, chopped
1 tsp. salt
FOR SMASH BURGERS:
1 tsp. Ground cumin
1 tsp. Mild chili powder
1 tsp. Salt
1/2 tsp. Black pepper
2 lbs. Gound beef
ASSEMBLY:
4 ea. Brioche buns, split
2 Tbsp. Butter, softened
2 cups Lettuce, shredded
8 slices Tomato
1/2 cup Chipotle mayo
Directions
In a medium saucepan, combine water, vinegar, sugar and salt. Stir, then bring to a boil over medium heat.  Add red onion, red pepper flakes and garlic.  Reduce heat and simmer for 3-4 minutes.  Remove from heat and let onions cool in saucepan for 1 hour.  Drain through a strainer, transfer to a container and refrigerate for at least 1 hour.
Scoop avocado out of each shell with a large spoon.  Place cut side down on a cutting board and cut in half lengthwise, then crosswise into 1 inch chunks.  Transfer to a medium size bowl.  Add jalapeno, garlic, lime juice, cilantro, and salt.  Mash with a potato masher to desired texture.  Transfer to a bowl, cover and refrigerate for 45 minutes.
In a small bowl, combine cumin, chili powder, salt and pepper.  Form ground beef into ¼ lb. balls.  Place burgers on a baking sheet lined with wax paper.  Sprinkle seasoning over burger balls, then roll balls in remaining seasoning until all seasoning is on burger balls.  Flatten slightly with a spatula.  Let sit at room temperature for 20 minutes while grilling buns.
Pre-heat a large cast iron pan or frying pan over medium-low heat.  Spoon a tablespoon of butter into pan and move pan around so butter coats bottom of pan.  Add 2 tops and 2 bottoms of buns cut side down into pan.  Grill for 1-2 minutes or until golden brown.  Transfer buns to a plate and repeat with remaining butter and buns.  Set buns aside until ready to assemble.
Pre-heat the same pan used for grilling buns to medium heat. Place one burger ball in pan slightly off-center.  Using a flat metal spatula and a metal salt shaker or ramekin, flatten burger in pan.  Gently rotate spatula while removing from burger.  Repeat with 1 more burger.  Cook for 1 minute or until juices are coming out of burger.  Flip burger and cook an additional 30 seconds.  Add 1 slice of cheese.  Cook for another 15 seconds.  Transfer burgers to a tray and repeat cooking process with remaining burgers and cheese.
Put all ingredients on the counter. Place 4 bun bottoms on a clean flat surface.  Spread a mounded teaspoon of chipotle mayo on each bun bottom.  Sprinkle about 1/3 cup of shredded lettuce over mayo.  Place 2 tomato slices over lettuce.  Place one cheeseburger over tomato.  Place about 1/3 cup of pickled red onion/jalapeno mixture over cheeseburger.  Place another cheeseburger over red onion.  Spread about ¼ cup of guacamole on grilled side of bun top.  Place on top of cheeseburger. 
---