Portabella Pesto Burgers Recipe
Prep Time: 15 Min | Cook Time: 8 Min | Servings: 4 | Calories: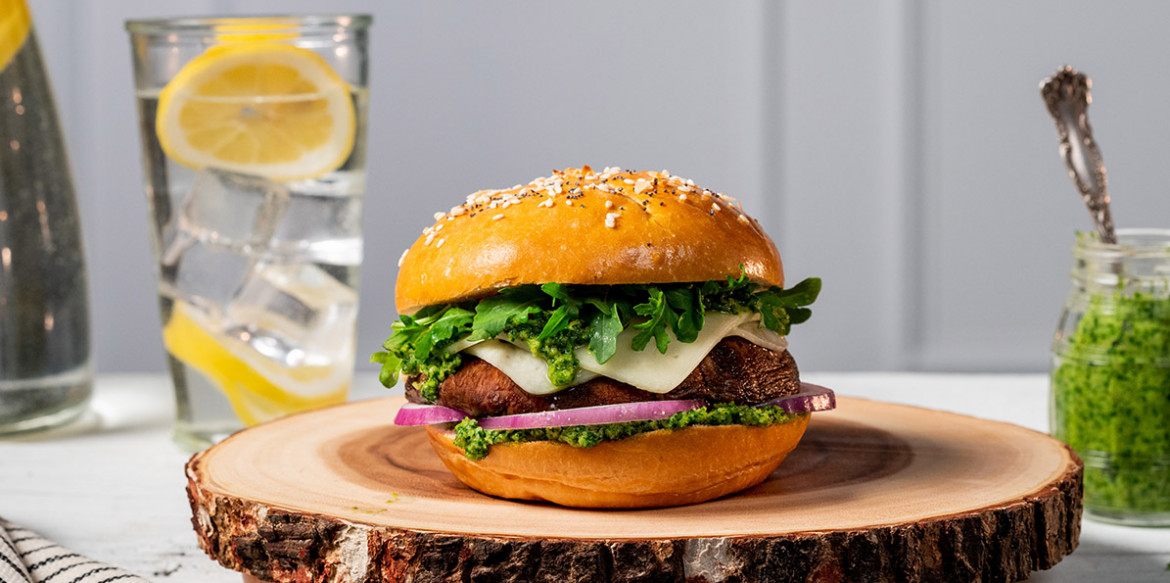 ---
Not just for vegetarians, these tasty mushroom burgers with pesto, tomato basil cheese & peppery arugula will impress even the meat-lovers in the family
Ingredients
2 Tbsp Butter, melted
2 ea.Garlic cloves, minced
4 lg. Portabella mushrooms, stems removed, caps wiped clean
1/2 cup Pesto
1 small Red onion, thinly sliced
1 cup Baby arugula
4 ea. Kaiser rolls, split and buttered
Directions
Pre-heat grill to medium-high.
Combine butter and garlic in a small bowl. Brush tops and inside of each mushroom with butter mixture; sprinkle with salt and pepper.
Grill for 3 minutes on each side until softened and grill marks appear. Top each with a slice of cheese just before removing from the grill.
Warm buns on same grill for 1 to 2 minutes until toasted and grill marks appear.
To assemble the burgers: Place bun halves on each serving board or plate. Add onion, mushroom, pesto and arugula.
---