Chimichurri Steak & Cheese Wrap Recipe
Prep Time: 40 min | Cook Time: 12 min | Servings: 4 | Calories: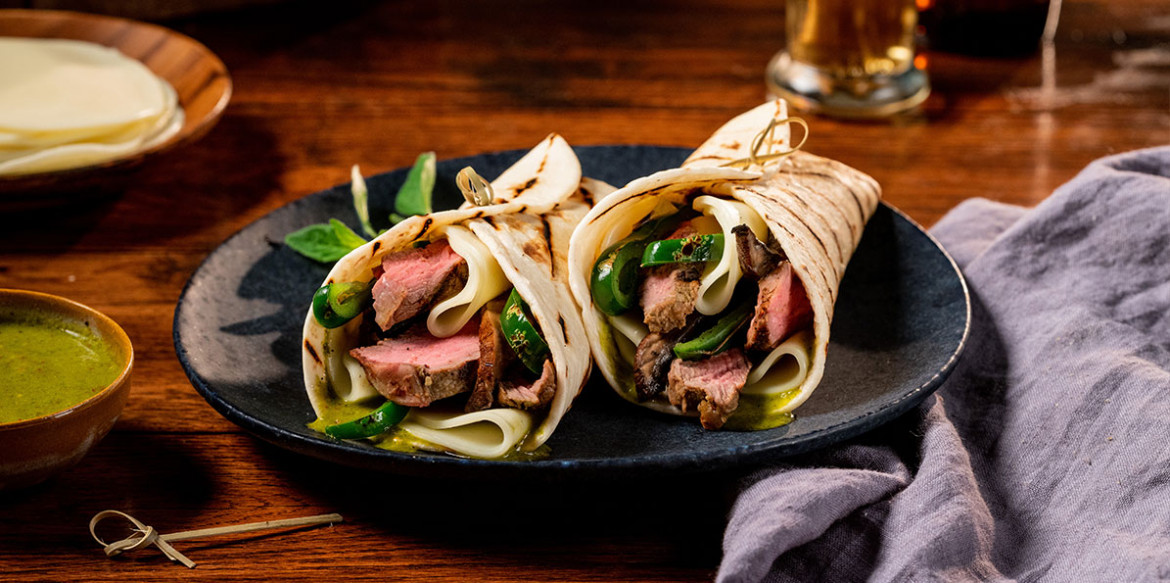 ---
These South American-inspired wraps can be prepped ahead of time & then assembled just before serving. The chimichurri serves as a marinade & a sauce drizzle over perfectly grilled steak & veggies, piled high on a warm tortilla
Ingredients
1/3 cup Parsley, finely chopped
3 Tbsp. Fresh oregano leaves
4 cloves Garlic, peeled
2 tsp. Crushed red pepper
1/4 cup Red wine vinegar
2 Tbsp. Lemon juice
2/3 cup Olive oil
2 ea. New York strip steaks (about 1 1/4 lbs total)
3 ea. Poblano peppers, halved, stems & seeds removed
3 ea. Portabella mushrooms, stems removed
8 8" fajita-sized tortillas
8 slices Sargento® Provolone Cheese
Directions
To make the marinade & sauce: Put parsley, oregano, garlic, pepper, vinegar, juice, salt & pepper in a small food processor & process until the mixture is finely chopped. Scrape the mixture into a small bowl & whisk in the oil. Divide the mixture in half. Half will be used as a marinade & the remaining is spooned over the steak after it's cooked.
Combine the steak and one half of the chimichurri in a shallow dish or a re-sealable bag. Cover or seal & refrigerate for 1 hour.
Heat a grill to high. Cook steaks on greased grill for 4 to 5 minutes per side, depending on the thickness, for medium-rare. Cover with foil & let steaks rest for 5 to 10 minutes before cutting across the grain into thin slices.
---