Spiced Bacon & Havarti Grilled Cheese Recipe
Prep Time: 10 min | Cook Time: 25 min | Servings: 4 | Calories: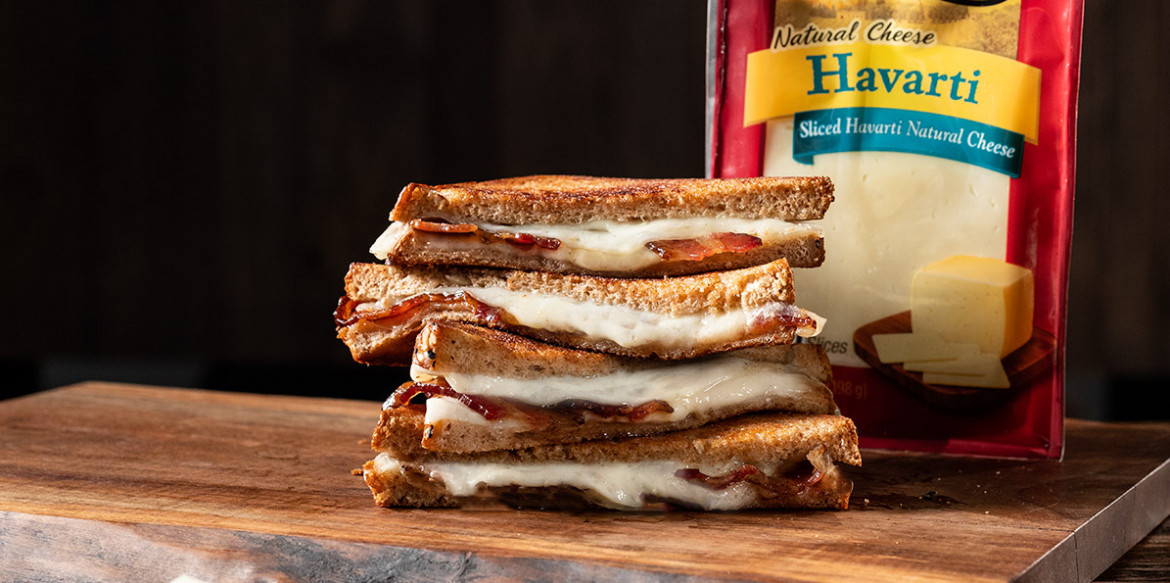 ---
Smoked bacon is brushed with a spicy maple syrup, oven roasted and piled on grilled whole grain bread with 3 slices of Sargento® Havarti Cheese.
Ingredients
12 slices smoked thick cut bacon
3 Tbsp. maple syrup
1/2 tsp. ground cinnamon
1/4 tsp. cayenne pepper
1/2 tsp. black pepper
8 slices whole grain bread
3 Tbsp. mayonnaise
Directions
Pre-heat oven to 375 degrees. Place bacon slices on a parchment or foil lined baking sheet.
In a small bowl, combine maple syrup and next 3 ingredients. Brush one side of bacon with maple syrup mixture. Place baking sheet on center rack of oven and bake for 15 minutes. Remove pan from oven. Flip bacon using a fork or tongs, then brush bacon with remaining syrup mixture. Return to oven and bake an additional 10 minutes or until bacon is browned. Remove from oven and let cool. Transfer bacon to a plate lined with paper towels and blot to remove excess grease. Cut bacon in half and set aside.
Spread mayo on 1 side of each slice of bread. Place 4 slices of bread mayo side down on a clean surface or baking sheet. Place 1 slice of cheese on each slice of bread. Place 3 halves of bacon over cheese. Place 1 slice of cheese over bacon. Place 3 more halves of bacon over 2nd slice of cheese. Place 3nd slice of cheese over bacon. Top with remaining slice of bread mayo side up.
Pre-heat a large skillet or griddle over medium low heat. Place 1-2 sandwiches in hot pan and grill for 2-3 minutes covered until golden brown. Flip sandwiches and grill an additional 2-3 minutes uncovered until golden brown. Remove from pan and keep warm while grilling remaining sandwiches. Cut in half and serve.
---