Southern Broccoli Mac Grilled Cheese Recipe
Prep Time: 10 | Cook Time: 15 | Servings: 4 | Calories: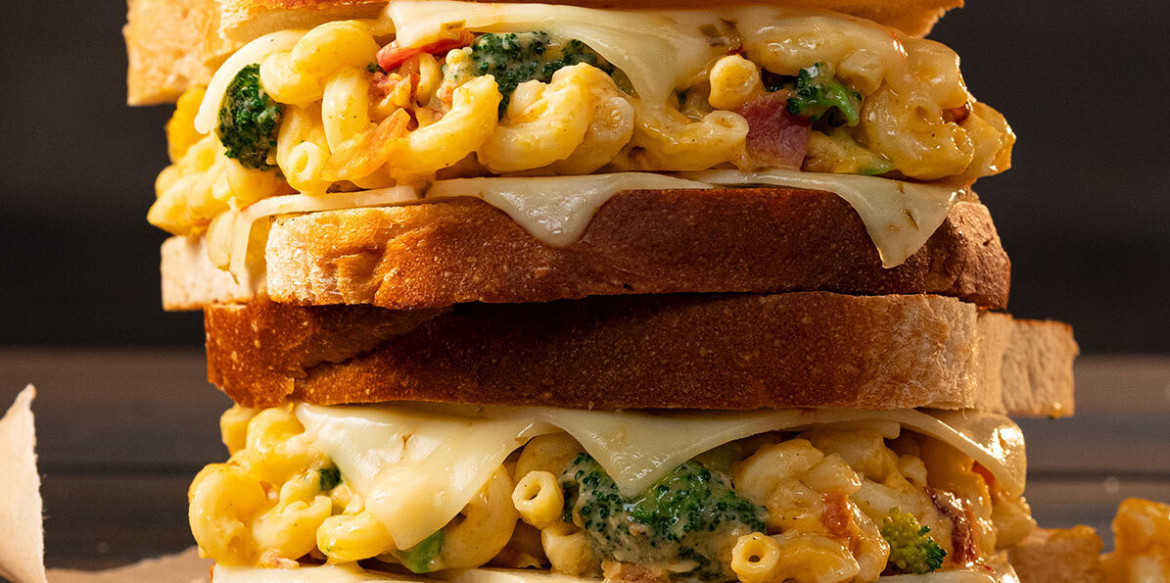 ---
Yep, this grilled cheese has Cajun-spiced mac and cheese made with tangy Sargento® Cheddar, plus Sargento® Pepper Jack for the cheese layer. Zesty broccoli and smoked bacon round out this incredible, two-hands-required sandwich.
Ingredients
2 cups Elbow pasta, fully cooked
3 Tbsp. Salted butter, softened
1 tsp. Liquid smoke
4 tsp. Cajun seasoning
1 tsp. Italian seasoning
1 cup Heavy whipping cream
2 tsp. Hot sauce
1 head Broccoli, chopped and sauteed
2 clove Garlic, diced
6 slices Smoked bacon, cooked and chopped
8 slices Buttermilk bread
Directions
In a small bowl add the softened butter, liquid smoke, half of Cajun seasoning and Italian seasoning and mix well. Set aside.
Using a medium skillet on medium-high heat, add butter. Add in the broccoli and cook for 1 minute. Add in the garlic and cook for another minute. Set aside for assembly.
Using the same skillet on medium-high heat add the heavy whipping cream, hot sauce and remaining Cajun seasoning and cook for about 3 minutes or until it starts to simmer.
Stir in the sharp cheddar cheese gradually. Toss noodles in cheese sauce making sure you coat well. Fold in the chopped bacon.
Allow to cool for a few minutes. On a pan lined with parchment paper, layer bread, sliced cheese, noodle mixture, sliced cheese and bread to form sandwiches. Repeat the process to make 4 sandwiches. Place in refrigerator for about 30 minutes until firm.
Remove from refrigerator and butter top and bottom piece of bread. Cook in skillet on medium heat for 3-4 minutes on each side. Remove from heat and serve immediately.
---