Monte Cristo Panini Recipe
Prep Time: 15 min | Cook Time: 3 min | Servings: 6 | Calories: 525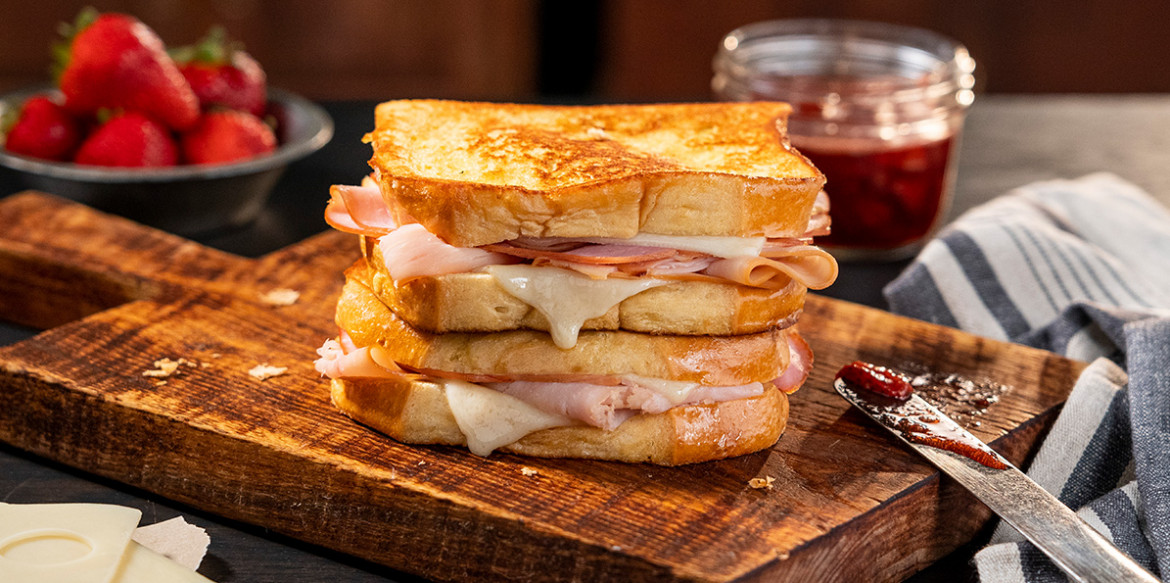 ---
These panini are packed with twice the meat of your average toasty sandwiches! You'll love the layers of tender Black Forest ham and sliced honey glazed turkey combined with Sargento® Sliced Baby Swiss Cheese. And don't forget the surprise ingredient of sweet and tart strawberry jam handcrafted in your very own kitchen.
Ingredients
2 cups sliced fresh strawberries
1/2 cup sugar
1 Tbsp. balsamic vinegar
1/2 tsp. freshly ground black pepper
12 slices egg or challah bread
12 oz. deli sliced maple or honey glazed turkey breast
12 oz. deli sliced black forest ham
2 large eggs
1/4 cup milk
Powdered sugar (optional)
Directions
For jam, combine strawberries, sugar, vinegar and pepper in a medium saucepan. Bring to a boil over high heat, stirring frequently. Reduce heat; simmer uncovered until thickened, about 15 minutes. Remove from heat; transfer to small bowl and refrigerate 30 minutes or until serving time.
For sandwiches, place 6 slices cheese over 6 slices of bread; top with turkey, ham and remaining cheese. Close sandwiches with remaining bread.
Beat together eggs and milk in a pie plate. Dip each sandwich lightly in egg mixture, turning to coat. (Do not soak). Cook in a preheated nonstick panini* maker 3 minutes or until golden brown and cheese is melted. Dust with powdered sugar if desired. Serve with black pepper strawberry jam.
---