Jalapeno Popper Grilled Cheese Recipe
Prep Time: 5 MIN | Cook Time: 6 MIN | Servings: 4 | Calories: 1090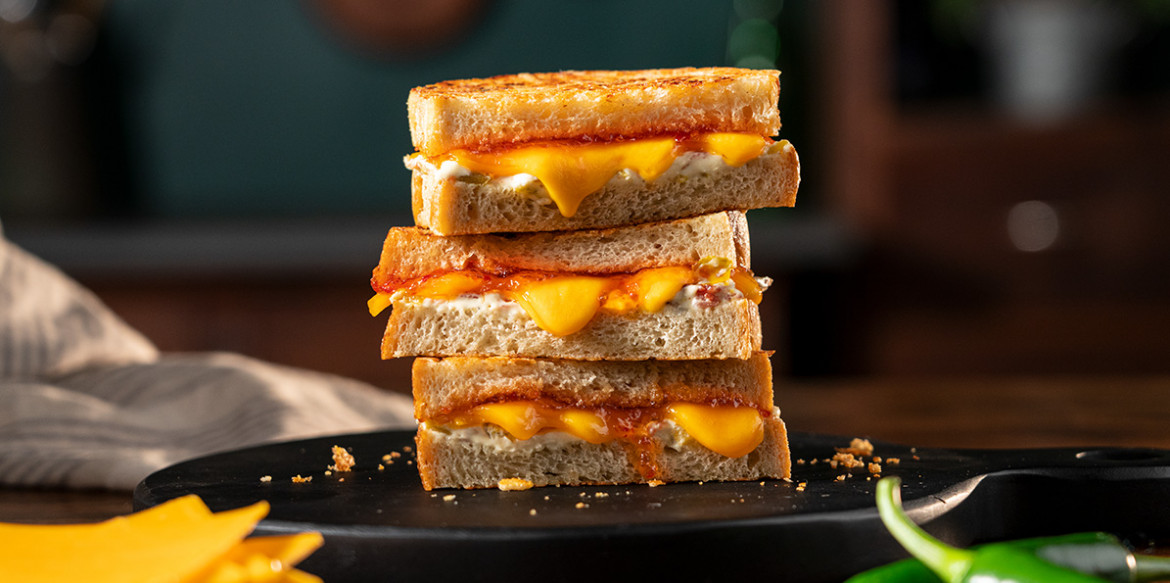 ---
Sharp Cheddar and parmesan cheese, bacon, roasted jalapenos and cream cheese join forces with buttery brioche bread to make this gooey grilled cheese one that will leave you speechless.
Ingredients
8 oz. reduced fat cream cheese, softened
1 can diced roasted jalapenos, drained
4 strips cooked bacon, chopped
8 slices brioche bread
2 Tbsp. hot pepper jelly, optional
½ cup prepared ranch dressing
¼ cup Sargento® Shredded Parmesan Cheese
Directions
In a small bowl, combine cream cheese and next 2 ingredients with a spoon until well blended.
Spread cream cheese mixture on 4 slices of bread. Place 3 slices of cheese over each slice of bread. Spread pepper jelly on remaining slices of bread. Place jelly side down over cheese.
Spread 1 tablespoon of ranch dressing on top of each sandwich. Sprinkle half of parmesan cheese on top. Flip sandwiches over and spread remaining dressing on bread. Sprinkle remaining parmesan cheese on top.
Pre-heat a large non-stick skillet over medium low heat. Place 2 sandwiches in pan. Cook for 2-3 minutes or until golden brown. Flip sandwiches and cook an additional 2-3 minutes or until golden brown. Serve.
---