Grilled Pastrami, Gouda and Spicy Sauerkraut Sandwich
Prep Time: 10 min | Cook Time: 10 min | Servings: 4 | Calories: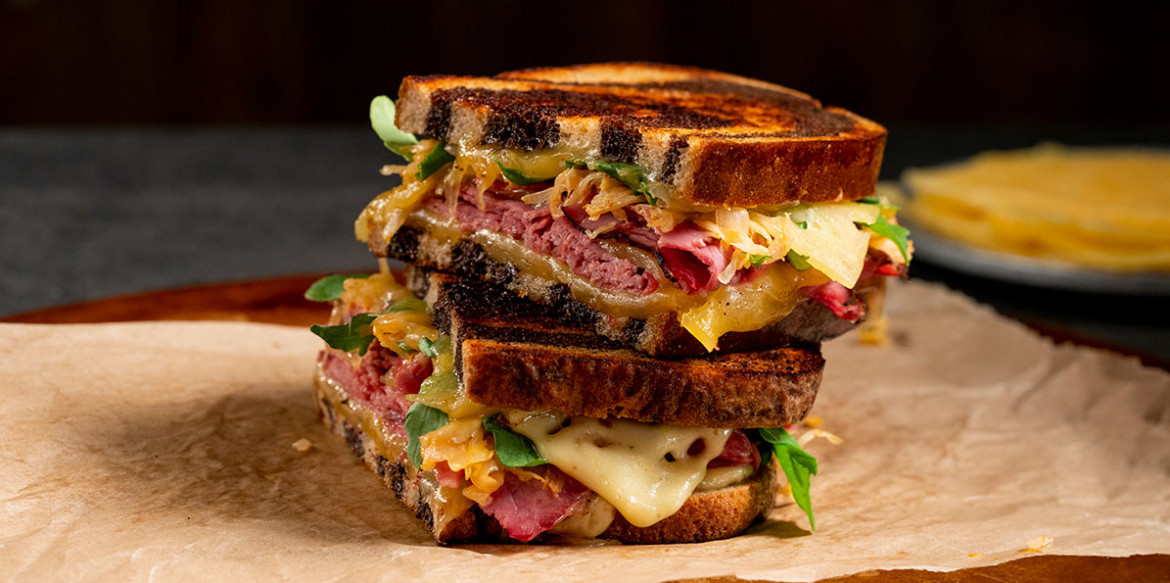 ---
A corner deli's got nothing on you when you whip up these mouthwatering sandwiches. The Sargento® Reserve Series™ Sliced Aged Gouda brings a savory, nutty flavor that perfectly complements the pastrami and spicy sauerkraut. So much deliciousness between two slices of bread!


Ingredients
8 slices Marble rye bread
4 Tbsp. Butter, softened
1 1/3 cups Sauerkraut, drained & rinsed
1 Tbsp. Sriracha sauce or garlic chili paste
2 ea. Green onions, thinly sliced
2 Tbsp. Mayonnaise
1 ½ lbs. Deli pastrami or corned beef, thinly sliced
2 cups Baby greens or arugula, washed
Directions
Pre-heat a large skillet over medium low heat. Butter one side of each slice of bread. Set aside. In a medium bowl, combine sauerkraut and next 3 ingredients. Set aside.
Place 2 bread slices in the pre-heated skillet. Place 2 slices of cheese on each slice. Grill bread slices for 2-3 minutes or until golden brown. Remove bread slices and set aside on a cutting board. Repeat with remaining bread slices and cheese.
Divide pastrami evenly on 4 slices of grilled bread, cheese side up. Top each with sauerkraut, then finish with baby green. Top with remaining grilled bread slices cheese side down. Cut in half and serve.
---