Football Nachos
Prep Time: 60 MIN | Cook Time: 0 MIN | Servings: | Calories: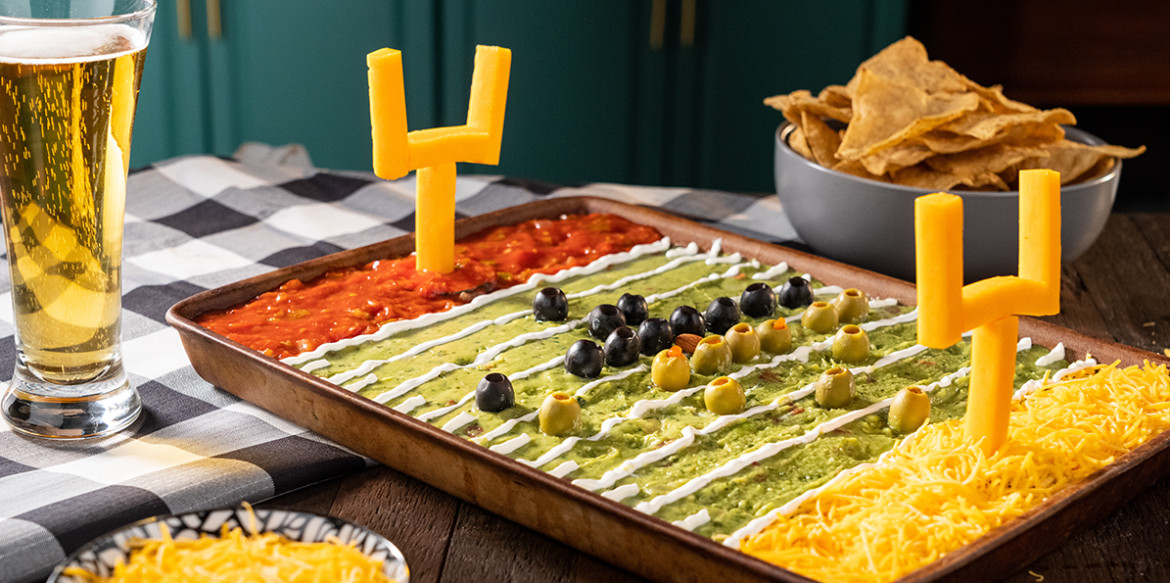 ---
Ingredients
3 ¾ lbs. prepared guacamole
16 ozs. prepared chunky salsa
2 cups sour cream
11 small black olives
11 small stuffed green olives
1 whole almond
2 1" slices zucchini or russet potato, optional
2 strips cardboard (the width of the serving dish)
1 bag tortilla chips
Directions
Measure the inside width of a 16" X 11" X 1" baking pan and cut 2 strips of cardboard to fit inside. This
will allow you to create straight lines of guacamole at the goal lines. Place the two pieces of cardboard
where you would like the goal lines to be. Hold upright with tape if needed.
Spoon the guacamole into the middle section of the field. Spread the guacamole with an offset spatula
to make it as flat as possible.
Place the two rounds of zucchini or potato in the center of each end zone. These will be used to hold
the cheese goal post upright.
Keep the cardboard in place and spoon the salsa into one end zone, making sure to cover the zucchini
or potato slice completely. Remove the piece of cardboard from between the guacamole and salsa.
Fill in the gap by using the back of a spoon to spread the salsa into the gap.
Sprinkle the cheese into the other end zone and spread evenly until flat, making sure the zucchini slice is covered completely. Carefully remove the cardboard. Fill in the gap with cheese if necessary.
Spoon the sour cream into a quart sized re-sealable plastic bag. Seal bag, removing as much air as
possible. Cut a small corner from one tip of the bag.
Mark the field lines by using the edge of one of the cardboard strips to use as guides. Pipe the sour
cream into straight lines to represent the yardage lines, then small lines at the edges in between.
Place the olives on the field to represent the players. To make it fun, line them up as you would see in
a drawn-up play. Place the almond in the center of the olives. This is the football.
For the goal posts: stick toothpicks in each end of 4 cheese stick halves. Attach two cheese stick halves at 90-degree angles into 2 of the cheese sticks with the picks. These will be the uprights of the goalpost. Attach the post by sticking the pick into the middle of the post securing the uprights. Press the goalposts into each zucchini or potato round to hold them upright. Serve with tortilla chips. Enjoy!
---