Turkey with Roasted Vegetables & Cheesy Stuffing
Prep Time: 25 Min | Cook Time: 3 Hrs | Servings: 6 | Calories: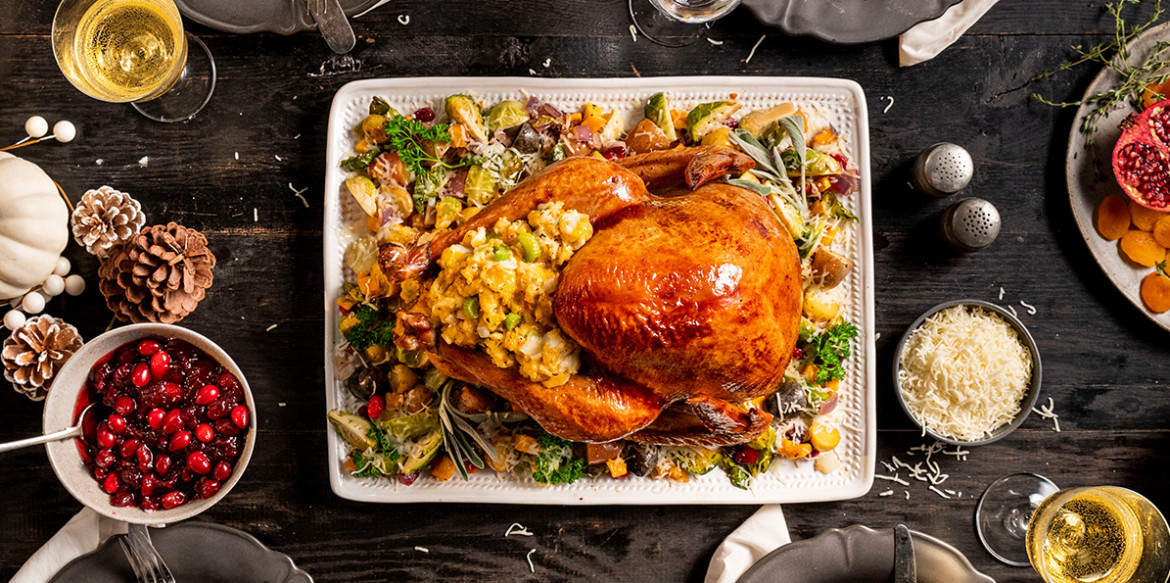 ---
Every so often, getting together with friends and family is not an option, yet you may still desire the flavors of Thanksgiving. This recipe combines all the ingredients we love on one pan. The turkey is stuffed with a cheesy bread stuffing, roasted, then surrounded with fall vegetables and roasted a little longer. Sprinkle some more Sargento® Shredded Cheese on top and you have a dinner that's easy and small, but still leaves leftovers for the next day.
Ingredients
TURKEY & STUFFING:
1 cup Onion, diced
½ cup Celery, finely chopped
1 ¼ cup Chicken broth
¼ cup Heavy cream
2 Tbsp. Butter, melted
2 Tbsp. Dried sage
1 Tbsp. Fresh parsley, finely chopped
6 ozs. Herb seasoned croutons
1 cup Sargento® Shredded Mozzarella Cheese
1 8-10 lb. Turkey, thawed, neck, giblets and gravy packet removed, rinsed
VEGGIES:
2 cups Brussels sprouts, quartered
1 cup Butternut squash, diced
1 cup Red onion, diced
2 cups Small potatoes, halved
¼ cup Fresh cranberries
Directions
For Stuffing: Place onion and next 6 ingredients in a a large microwave safe casserole dish or bowl. Microwave on high for 3 minutes. Remove and let cool slightly. Stir mixture, then add croutons. Stir gently until moisture is almost absorbed. Fold in cheeses. Set stuffing aside to cool while getting turkey ready.
For Turkey: Sprinkle inside of turkey with salt and pepper. Turn turkey on its top(breast side down). Spoon some of the stuffing into the neck cavity under the skin. Pull skin over and secure with toothpicks. Turn turkey over and spoon stuffing into chest cavity. Tie legs together. Sprinkle outside of turkey with salt and pepper. Place turkey in a roasting pan or large baking sheet with sides. Roast turkey for about 2 ½ hours. Place vegetables around turkey.
For vegetables, in a large bowl, combine all vegetables, oil, salt and pepper. Sprinkle vegetables around turkey. Roast turkey an additional 20 minutes or until internal temperature of turkey is 170 degrees and vegetables are crisp tender. Remove from oven, transfer turkey and vegetables to a platter and sprinkle cheese over vegetables. Serve.
---