Sweet Tomato, Cheese & Herb Tart Recipe
Prep Time: 15 min | Cook Time: 30 min | Servings: 6-8 | Calories: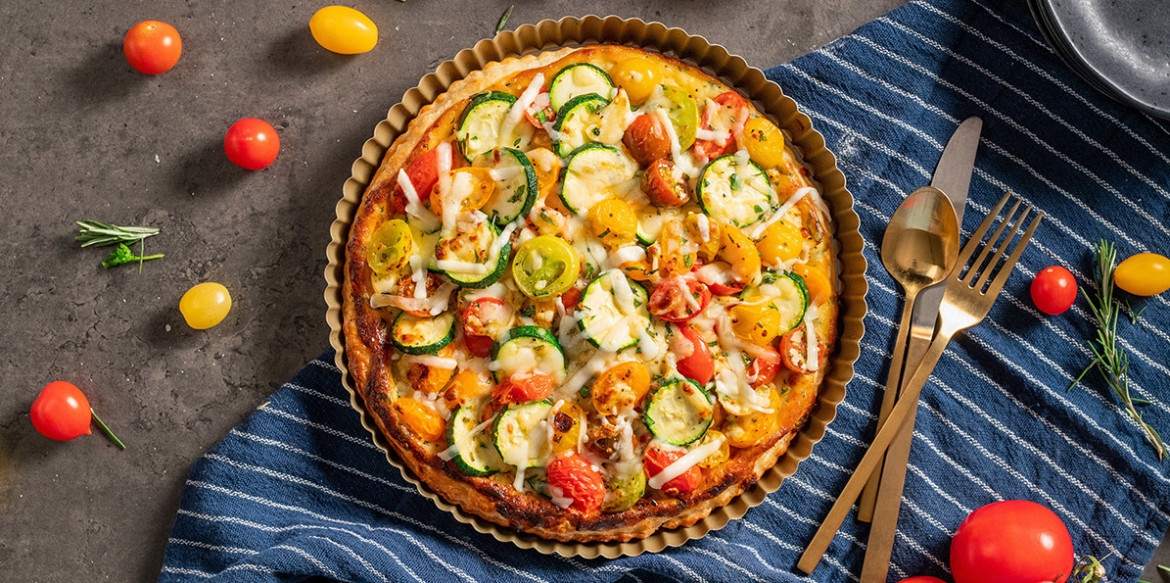 ---
France and Italy collide with this French spin on classic bruschetta. Flaky puff pastry is topped with a cheesy mascarpone custard then baked and topped with a flavorful Sargento® Reserve Series™ Aged Italian Blend, grape tomato, zucchini and fresh garlic herb mixture then broiled.
Ingredients
1 Sheet puff pastry, thawed, folded and rolled into 13"x13" square
2 tsp. Extra virgin olive oil
1 cup Zucchini, cut into 1/2" slices
2 cups Multi-colored grape tomatoes, cut in half
1/2 tsp. Fresh ground black pepper
1 tsp. Kosher salt
3 Tbsp. Fresh Italian herbs, chopped
1 1/2 cup Sargento® Reserve Series™ Aged Italian Blend
1 lg. Egg
16 oz. Sargento® Whole Milk Ricotta Cheese
2 cloves Garlic, thinly sliced
Directions
Pre-heat oven to 400 degrees. Place an 11" tart pan over puff pastry and cut an extra inch larger around pan with a sharp paring knife. Place puff pastry circle on inside of pan and press pastry into pan and up sides, removing any excess around top. Poke the bottom of pastry with a fork to prevent excess rising of pastry during baking. Place tart pan on a large baking sheet and place on middle rack of oven. Bake for 10 minutes.
Meanwhile, prepare mascarpone cream by combining mascarpone and remaining cheese filling ingredients in a medium bowl. Blend together with a hand mixer until smooth.
Remove puff pastry from oven and spoon mascarpone mixture on top of puff pastry. Carefully spread to the edges. Return pan to oven and bake an additional 25 minutes or until cheese is golden brown.
While tart is baking, in a medium bowl, combine vegetable cheese filling ingredients and toss with a large spoon. Set aside until needed.
Remove tart from oven and let cool for 15 minutes. Set oven to low broil.
Spoon reserved tomato mixture over cheese layer and spread to edges.
Return tart to oven and broil for 5-10 minutes or until cheese and tomatoes are lightly browned.
Remove from oven and let cool to room temperature. Serve with a balsamic glaze and additional fresh herbs for garnish.
---