Pepper Jack & Milanesa Torta Recipe
Prep Time: 10 MIN | Cook Time: 20 MIN | Servings: 4 | Calories: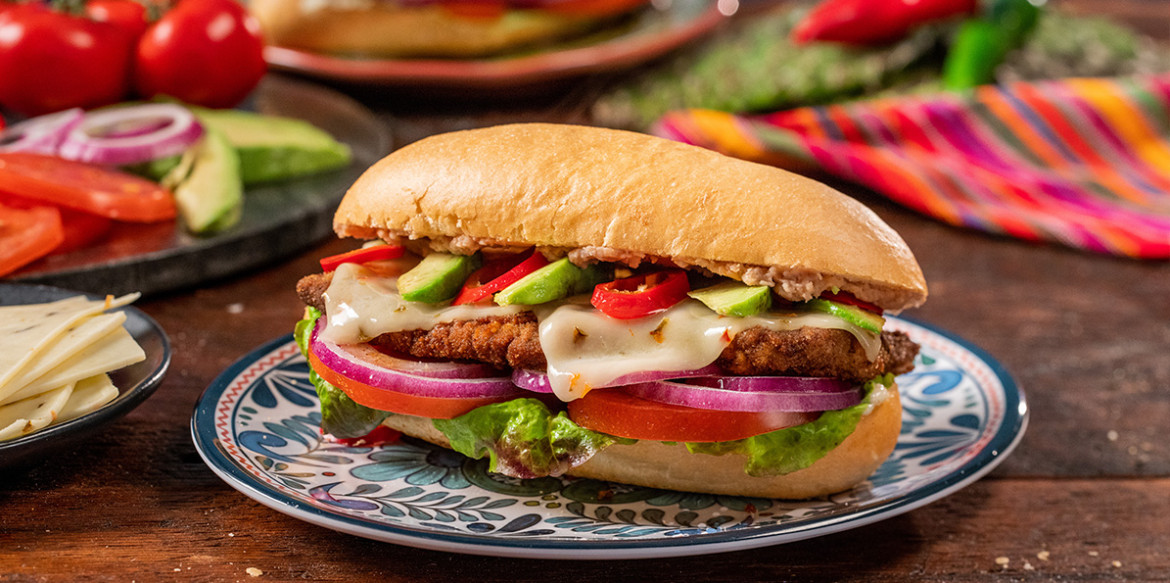 ---
This torta is layered with adobo steak, fresh green salsa and sliced Sargento® Pepper Jack Cheese for a sandwich that will make your tastebuds sing!
Ingredients
4 Thin-Cut Steaks
1/4 tsp. Onion Powder
1/4 tsp. Garlic Powder
4 Tbsp. Flour
1 Egg, beaten
2 cups Bread crumbs
Vegetable Oil for frying
Salt and pepper to taste
Directions
Season the steaks with salt, pepper, onion and garlic powder. Lightly flour on both sides, pass the steaks through the beaten egg and finally through the bread crumbs, pressing the steaks firmly so that the steaks are well breaded. Fry each steak at medium heat until light golden brown on both sides. Remove from heat and place on plate lined with paper towels to remove excess fat.
Place the breaded steaks on an oven tray, top each steak with 2 slices of Sargento® Sliced Pepper Jack Cheese and broil in a medium high oven until medium golden brown an bubbly, remove steaks from the oven.
Cut the bolillos or telera rolls horizontally in half. Spread the bottom halves with 2 tbsp of refried beans and the top halves with 2 tbsp of mayonnaise.
Place one piece of breaded steak on top on the bottom of the bolillo or telera roll with the refried beans, top each Torta with 3 slices of tomato 1 slice on onion, and 4 slices of avocado, close with the top of the bolillo or telera roll, serve with pickled jalapeño peppers. Enjoy!
---