New Mexico Red Chile Enchilada Casserole
Prep Time: 60 min | Cook Time: 40 min | Servings: 8 | Calories: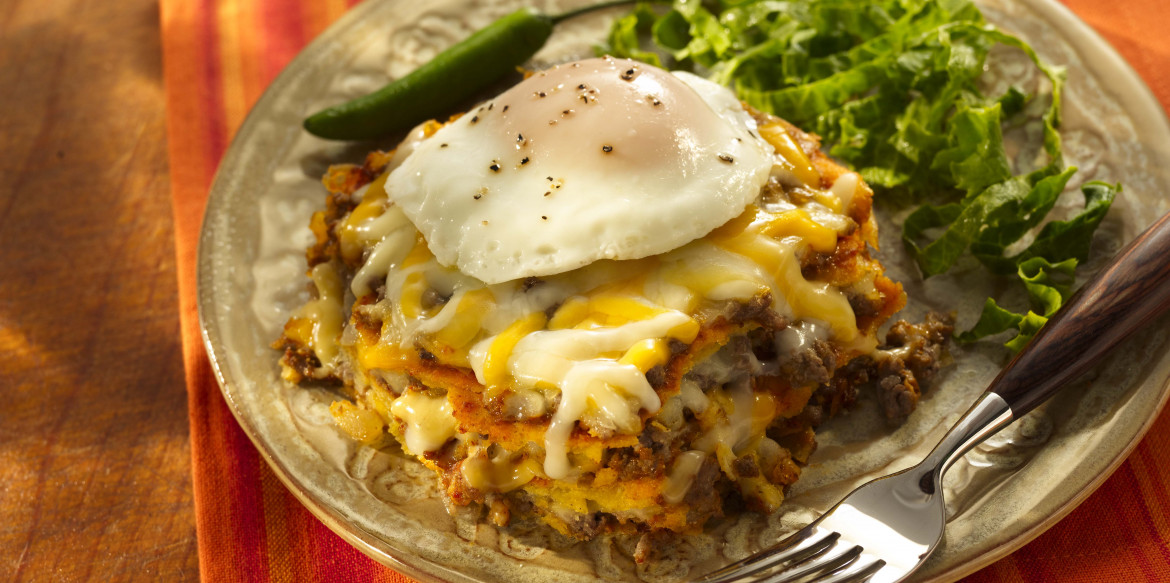 ---
Each slice of this amazing Mexican casserole is full of enchilada flavors from seasoned ground beef in red chili sauce. The layers of hearty tortillas sprinkled with perfectly melting Sargento® Shredded 4 Cheese Mexican - Traditional Cut and served with an egg cooked sunny-side up and shredded iceberg lettuce looks and tastes great.
Ingredients
1-1/2 lbs. ground beef
1-1/2 cups chopped onion
1 clove garlic, minced
Salt and pepper to taste
2 Tbsp. butter
2 Tbsp. flour
2-3 oz. red chili powder (to taste)
1-1/2 cups milk
18 corn tortillas (5 to 6-inch diameter)
8 eggs, cooked sunny-side up
Shredded iceberg lettuce (optional)
Directions
Preheat oven to 350°F. Brown ground meat; add onion and garlic, salt and pepper to taste.
For sauce, melt butter in saucepan over medium heat; stir in flour and cook until bubbling. Slowly add red chili powder and milk, stirring constantly until smooth and slightly thickened, and to desired taste. Keep warm and set aside.
Begin casserole assembly with 1/3 cup red chili sauce in the bottom of a 9x13 pan. Be sure that the sauce covers the bottom of the pan evenly. Layer 6 corn tortillas on sauce, overlapping slightly. Top tortillas with another 1/3 cup sauce. Add 1/3 of meat mixture. Top with 2 cups cheese. Repeat layering 2 more times, ending with cheese on top.
Bake 30 minutes, or until bubbly. 5-10 minutes before casserole comes out of the oven, start preparing eggs, sunny-side up. Place 1 egg on top of each serving. Serve with lettuce, if desired.
---