Extra Cheese Cheddar, Broccoli & Potato Bake
Prep Time: 10 Min | Cook Time: 20 Min | Servings: 6 | Calories: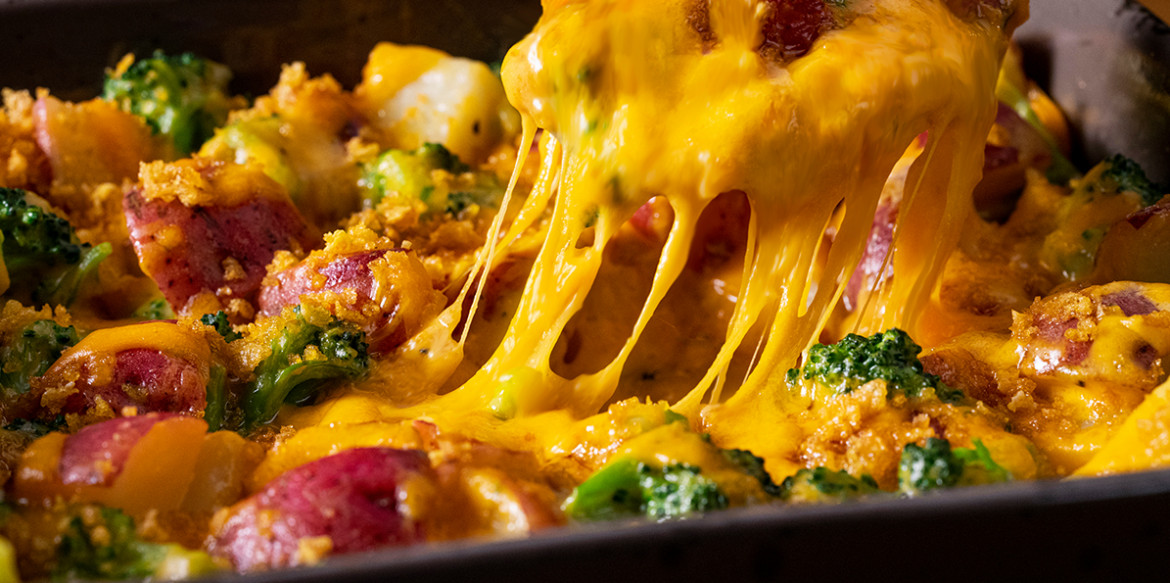 ---
Tender potatoes, fresh broccoli and lots of Sargento® Creamery Shredded Cheddar Cheese combine in this side dish that is delicious, easy and breezy to make.
Ingredients
1 lb. red potatoes, cut into ½" pieces
1 cups milk
½ tsp. salt
¼ tsp. pepper
2 cups fresh broccoli florets, chopped
2 tsp. cornstarch
2 tsp. water
1 ½ cups Sargento® Creamery Shredded Cheddar Cheese
½ cup cornflakes, crushed
1 tbsp. butter, melted
Directions
Pre-heat oven to 350 degrees.
Add potatoes, milk, salt and pepper to a large saucepan. Cover and bring to a simmer. Cook for 5-7 minutes or until potatoes are still slightly firm when pierced with a fork.
Add broccoli, cover and cook for 2 minutes or until bright green in color.
In a small bowl, combine cornstarch and water. Add to potato and broccoli mixture and stir quickly. Cook for 1 minute or until thickened.
Turn off burner, then add 1 cup of cheese. Stir until cheese is melted.
Transfer mixture to a 10"X7" casserole dish. Sprinkle remaining cheese on top.
Cover and bake for 10 minutes. Meanwhile, in a small bowl, combine cornflakes and melted butter. Remove baking dish from oven and top with cornflake mixture. Bake uncovered an additional 10 Min. Remove from oven and serve.
---