Easy Baked Chicken Pot Pie
Prep Time: | Cook Time: 1 HR | Servings: 6 | Calories: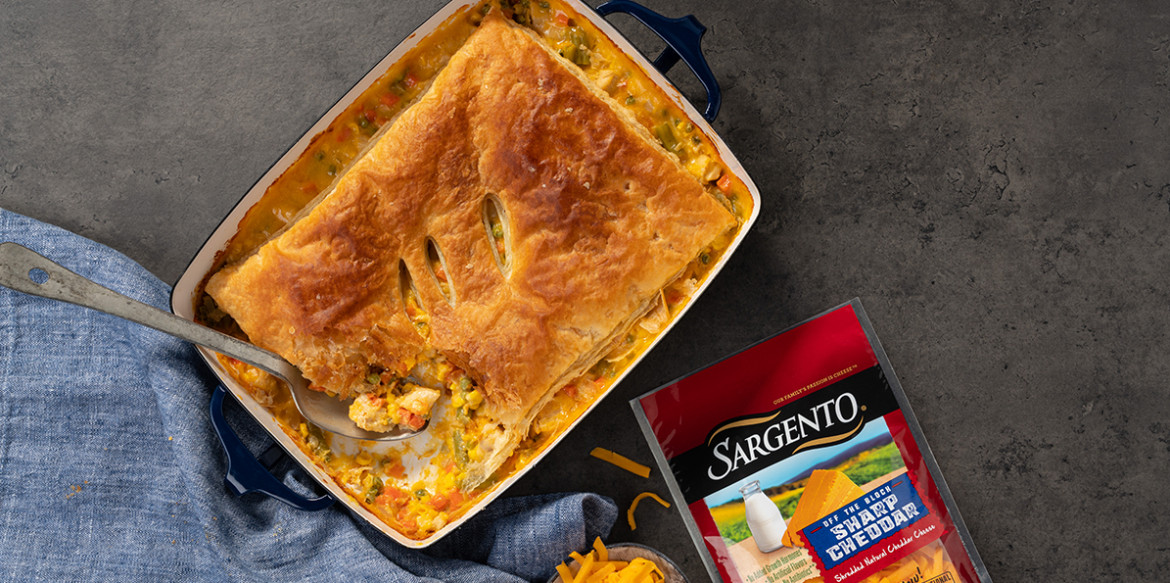 ---
Pot pie is one of those cozy comfort foods everyone loves. This version is a breeze to make and features Sargento® Shredded Sharp Cheddar that richly melts beneath a golden-brown puff pastry crust.
Ingredients
1 Frozen puff pastry sheet
1 Tbsp. Butter
1 cup Yellow onion, diced
1 can Condensed cream of chicken soup
1 lb Chicken breast, cooked and cubed
1 (16oz.) Package of frozen vegetables
Directions
Preheat oven to 400°. On a lightly floured surface, roll each pastry sheet into a 12x10-in. rectangle. Set aside.
In skillet, heat butter over medium-high heat; Stir in onion; cook 1 minute. Stir in canned soup and cheese. Bring to a slight boil, stirring constantly, about 2 minutes.
Stir in frozen vegetables and chicken; return to a boil. Transfer to a greased 13 x 9 backing pan.
Bake, uncovered, until bubbly for about 30 mins. Add pastry puff top and cook for an additional 15 mins until pastry is golden brown. Let stand 10 minutes before serving.
---