Dump and Bake Chicken Parmesan
Prep Time: 15 min | Cook Time: 30 min | Servings: 4 | Calories: 1582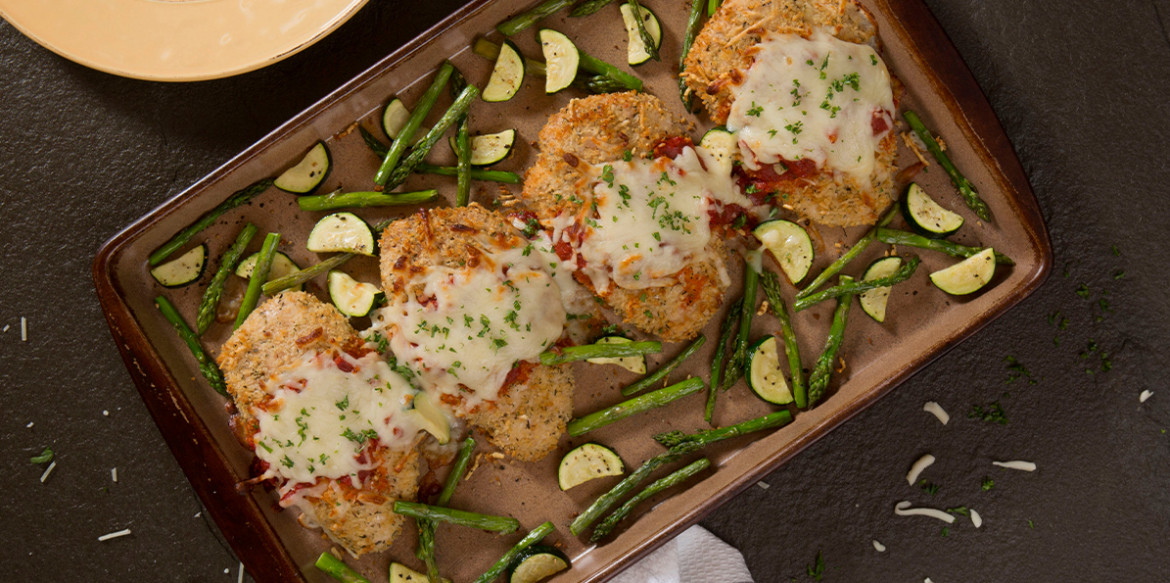 ---
Here's a quick and easy dinner you cook on one baking sheeting so it's not only delicious, it saves time on dishes. Breaded chicken breasts are baked and topped with marinara and Sargento® Mozzarella that melts to a gooey perfection. Feel free to use other seasonal veggies.
Ingredients
4 (6 oz) boneless skinless chicken breast halves
3/4 cup Italian seasoned Panko breadcrumbs
2 Tbsp olive oil, divided
Salt and freshly ground black pepper
1 large egg
1 medium zucchini, sliced
1 lb asparagus, trimmed and cut into 1-inch pieces
1/2 tsp garlic powder
2/3 cup marinara sauce
2/3 cup Sargento® Shredded Mozzarella - Traditional Cut
Fresh basil (optional)
Directions
Preheat oven to 450˚F. Spray a rimmed baking sheet with non-stick cooking spray.
In a medium size bowl, mix panko breadcrumbs, Parmesan cheese, 1 Tbsp olive oil and salt and pepper. In a shallow dish whisk egg until well blended. Working with one chicken breast at a time, dredge chicken in egg and transfer to breadcrumb mixture. Press both sides in crumbs to adhere well. Transfer to middle of baking dish then repeat with remaining chicken breasts. Bake chicken in oven 15 minutes.
Remove chicken from oven, rotate chicken to opposite side. Add asparagus and zucchini; drizzle with olive oil and season with salt and pepper and garlic powder. Return to oven and bake 10 minutes longer or until chicken registers 165˚ in center.
Remove from oven and spread marinara sauce down middle of chicken breasts, sprinkle with Mozzarella cheese. Return to oven and heat until cheese is melted, about 5 minutes. Optional: Top with additional Parmesan cheese and fresh basil after heating.
---