Chorizo Mac n' Cheese
Prep Time: 30 MIN | Cook Time: 40 MIN | Servings: 8 | Calories: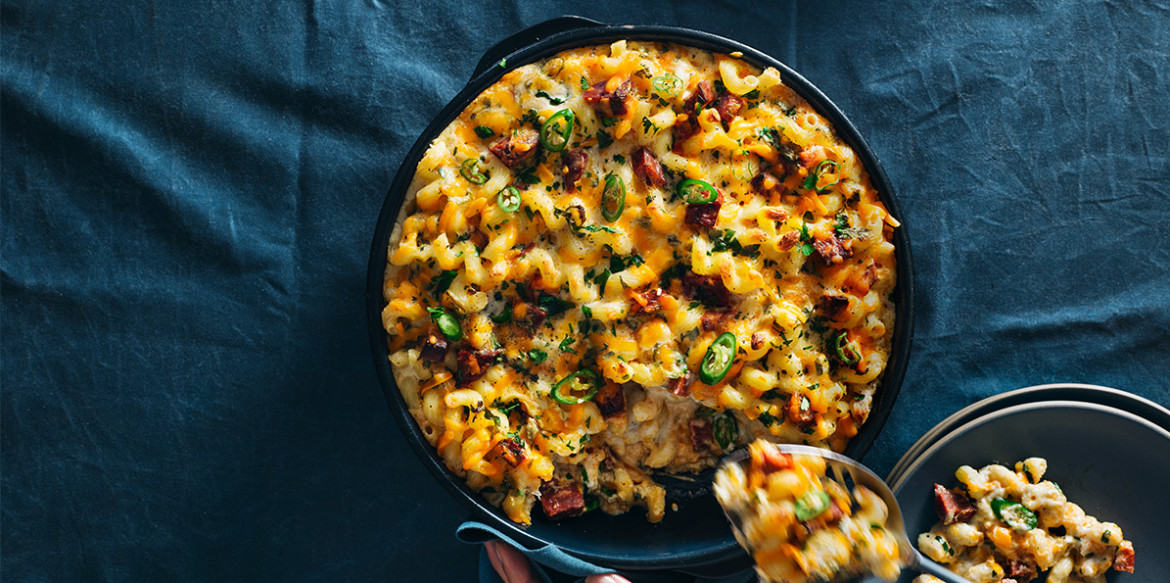 ---
There are lots of ways to jazz up macaroni and cheese. This recipe, inspired by Tex-Mex flavors, features chorizo, fresh cilantro and a serrano chili. Adding a rich depth of cheesiness is Sargento® Reserve Series™ 18-Month Aged Cheddar and 14-Month Aged Parmesan. It's a dish your family will request again and again.
Ingredients
1 lb. Cavatappi pasta, cooked al dente
4 Tbsp. salted butter
1/4 cup all purpose flour
3 cups whole milk
1 tsp. dry mustard
1 1/2 cup dried Spanish Chorizo, chopped
2 tsp. serrano chili, thinly sliced
3 Tbsp. chopped cilantro
salt and pepper to taste
Directions
Preheat oven to 375 degrees.
In a large saucepan on medium heat, melt the butter, whisk in flour and cook for 1 minute. Whisk in the milk slowly and cook for 3 minutes. Add the dry mustard and salt and pepper. Turn off the heat and add in 2 cups of Sargento® Reserve Series™ 18-Month Aged Cheddar Cheese and Sargento® Reserve Series™ 14-Month Aged Parmesan Cheese and stir until smooth.
Add the pasta, chorizo Serrano chili, chopped cilantro and season with salt and pepper and pour into a 2 quart baking dish and top with remaining Sargento® Reserve Series™ 18-Month Aged Cheddar Cheese. Place into the oven for 30 minutes.
Garnish dish with remaining chopped cilantro
---