Chicken Cheese Soup
Prep Time: 20 min | Cook Time: 30 min | Servings: 6 | Calories: 304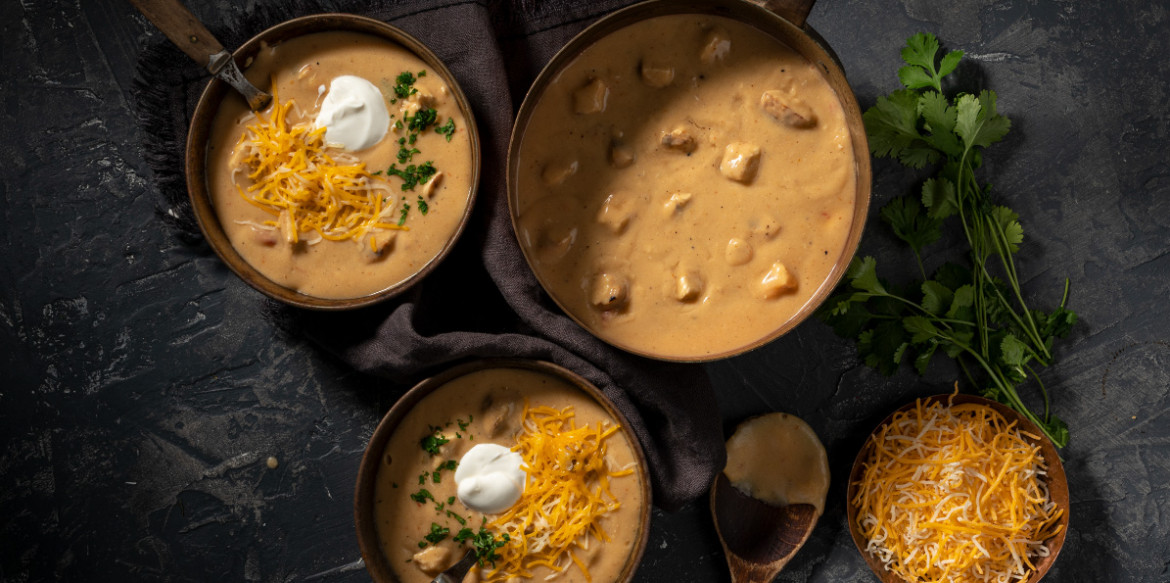 ---
Cumin, lime, chili powder, Colby-Jack cheese, tortilla chips and salsa come together to create this delicious Tex-Mex-inspired soup. If desired, top each serving with a dollop of sour cream, chopped cilantro and a sprinkle of Colby-Jack. This uncomplicated soup is perfect for lunch or a light but filling dinner.
Ingredients
3 (12 oz.) boneless, skinless chicken breast halves
1 Tbsp. fresh lime juice
1 tsp. chili powder
1/2 tsp. cumin
3 cans (14 oz. each) reduced sodium chicken broth
3 cups (6 oz.) broken baked corn tortilla chips
1/2 cup salsa
1/2 cup sour cream (optional)
1 Tbsp. chopped fresh cilantro
Directions
Place chicken on plate; brush both sides with lime juice. Sprinkle chili powder and cumin over both sides of chicken; let stand 10 minutes.
Preheat grill or broiler. Grill or broil chicken 5 minutes per side or until cooked through. Cool; cut into 1/2-inch pieces.
Heat broth to a boil in large saucepan. Add tortilla chips; cover and let stand 10 minutes. Puree mixture in batches in food processor or blender; return to saucepan. Stir 1-1/2 cups cheese into broth mixture; cook over low heat until melted, stirring frequently. Stir in salsa and chicken; heat through. Ladle into bowls; if desired, top with sour cream. Sprinkle with cilantro and remaining cheese.
---