Cheesy Mexican Beef Casserole
Prep Time: 15 min | Cook Time: 45 min | Servings: 8 | Calories: 594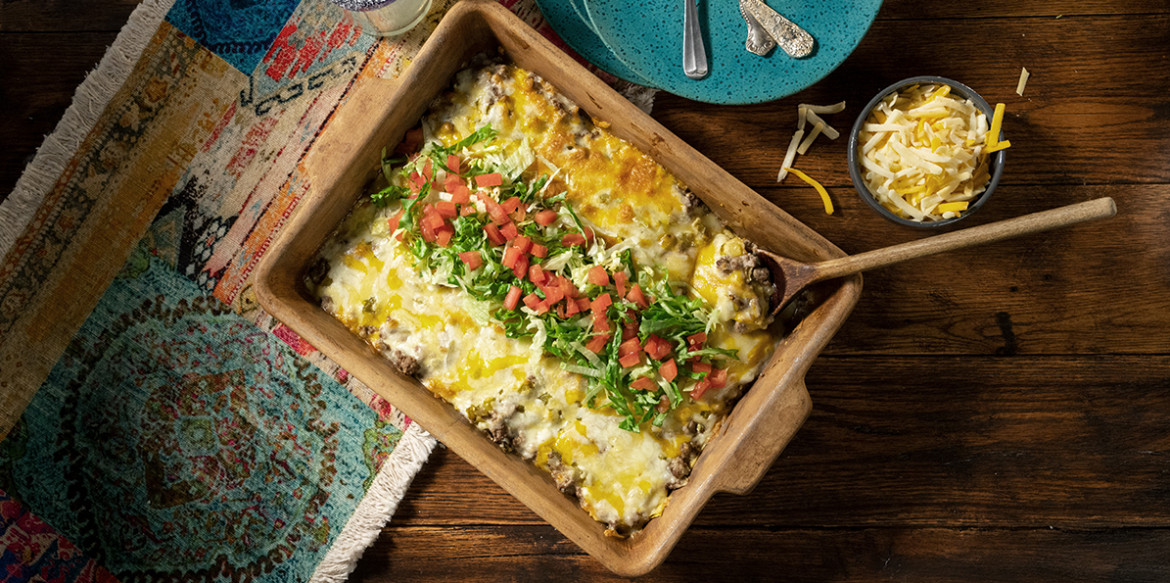 ---
Enjoy a Tex-Mex casserole that's oh-so-easy to prepare but always a big hit for busy family night dinners. Sargento® 4 Cheese Mexican melts between layers of tortillas and creamy ground beef. Top with lettuce, tomatoes and sour cream for a one-dish meal.
Ingredients
2 lbs. ground beef
1 medium onion, chopped
1 can (10-3/4 oz.) condensed cream of mushroom soup
1 can (10-3/4 oz.) condensed cream of chicken soup
8 (6-inch) corn tortillas, divided
1 can (7 oz.) chopped green chilies
4 cups (16 oz.) Sargento® 4 Cheese Mexican - Traditional Cut, divided
3 cups shredded lettuce (optional)
1 medium tomato, chopped (optional)
Sour cream (optional)
Directions
Heat large skillet over medium heat; crumble beef into skillet and cook, stirring 7 minutes or until no longer pink; pour off drippings. Add onion and cook until tender. Add soups and 1/2 soup can of water.
Line bottom of 9x13-inch baking dish with 4 tortillas, torn into pieces. Layer with 1/2 meat mixture, 1/2 chilies and 1/2 cheese. Layer one more time. Bake in preheated 325°F oven 45 minutes or until hot and bubbling. Top with shredded lettuce, chopped tomatoes and sour cream, if desired.
---