Cheesy Brussel Sprout Casserole
Prep Time: 10 min | Cook Time: 25 min | Servings: 6 | Calories: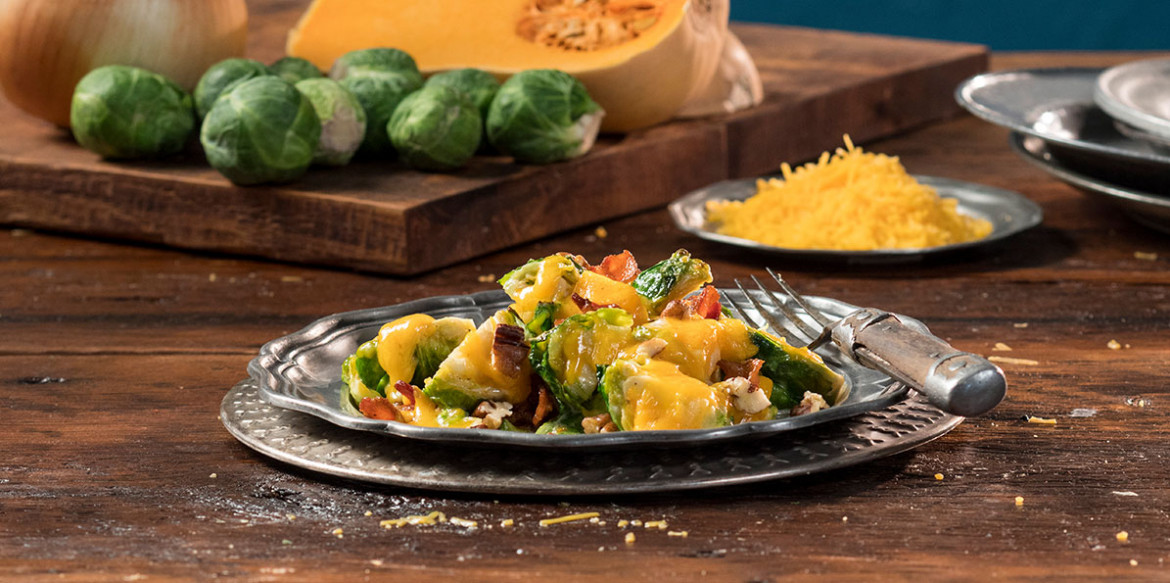 ---
By combining fresh brussels sprouts, caramelized onion, cream, bacon and Sargento® Shredded Sharp Cheddar cheese, this casserole just became your family's new favorite.
Ingredients
5 strips Bacon, cut into 1" pieces
1 med. Vidalia or sweet onion, chopped (about 1 ½ cups)
1 lb. Brussels sprouts, trimmed and quartered
2 cups Butternut squash, cubed
1 cup Heavy cream
1 Tbsp. Orange marmalade
1/2 tsp. Kosher salt
1/4 tsp. Freshly ground black pepper
1/3 cup Pecans, chopped
Directions
Pre-heat oven to 350 degrees. In a large dutch oven or frying pan, cook bacon over medium heat until browned and crisp. Drain on paper towels, leaving 1 tablespoon of drippings in pan. Set cooked bacon aside.
Add onion and saute' for 10-15 minutes over medium low heat until nicely browned, stirring often. Add brussels sprouts and squash. Cook for 5 minutes or until brussels sprouts are bright green.
Stir in cream, orange marmalade, salt and pepper. Cook for 1 minute. Stir in half of cheese. If using a frying pan, transfer mixture to a 13" X 9" casserole dish. Sprinkle remaining cheese, bacon and pecans on top.
Bake for 15 -17 minutes or until cheese is melted and brussels sprouts are tender. Serve.
---