Cheese and Mushroom Chicken
Prep Time: 10 min | Cook Time: 15 min | Servings: 6 | Calories: 407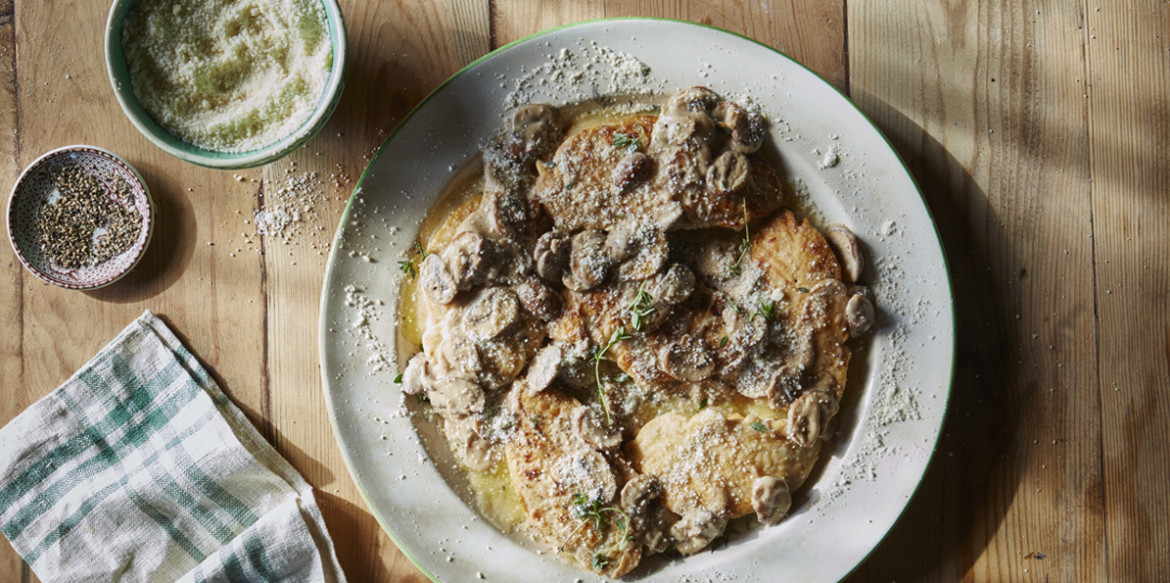 ---
Make gently breaded chicken breast covered with melted Sargento® Sliced Mozzarella Cheese along with your very own homemade sauce using fresh sliced mushrooms sautéed in a buttery mixture of dry sherry and chicken bouillon along with a hearty helping of Sargento® Grated Parmesan & Romano Cheese to get that perfectly cheesy flavor that completes this dish.
Ingredients
=Chicken:
12 boneless, skinless chicken breasts halves, flattened to 1/8-inch thickness
1/4 tsp. salt
3 Tbsp. all-purpose flour
3 Tbsp. butter or margarine
=Sauce:
2 Tbsp. butter or margarine
1/2 lb. fresh mushrooms, thinly sliced
1/8 tsp. black pepper
1 Tbsp. all-purpose flour
1/2 cup water
1/2 cup milk
1/4 cup dry white wine
1 cube or envelope chicken flavor bouillon
Sargento® Grated Parmesan & Romano Cheese
Sargento® Reserve Series™ 14-Month Aged Parmesan
Directions
Combine salt and flour; coat each chicken breast. Melt butter over medium heat in large skillet; add chicken breasts, a few at a time. Cook until lightly browned on both sides. Remove from skillet. Arrange cheese slices on 6 chicken breasts and top with remaining chicken. Skewer together with toothpicks; set aside.
For sauce, melt 2 tablespoons butter in skillet with drippings over medium heat. Add mushrooms and cook, stirring occasionally, until tender. Stir in pepper and flour until blended. Gradually stir in 1/2 cup water, milk, wine and bouillon; heat to a boil. Return chicken to skillet. Reduce heat, cover and simmer 5 minutes or until cheese is melted.
Discard toothpicks. Arrange on platter and sprinkle with Parmesan.
---