Beef & Cheddar Stuffed Peppers Recipe
Prep Time: 20 Min | Cook Time: 20 Min | Servings: 4 | Calories: 577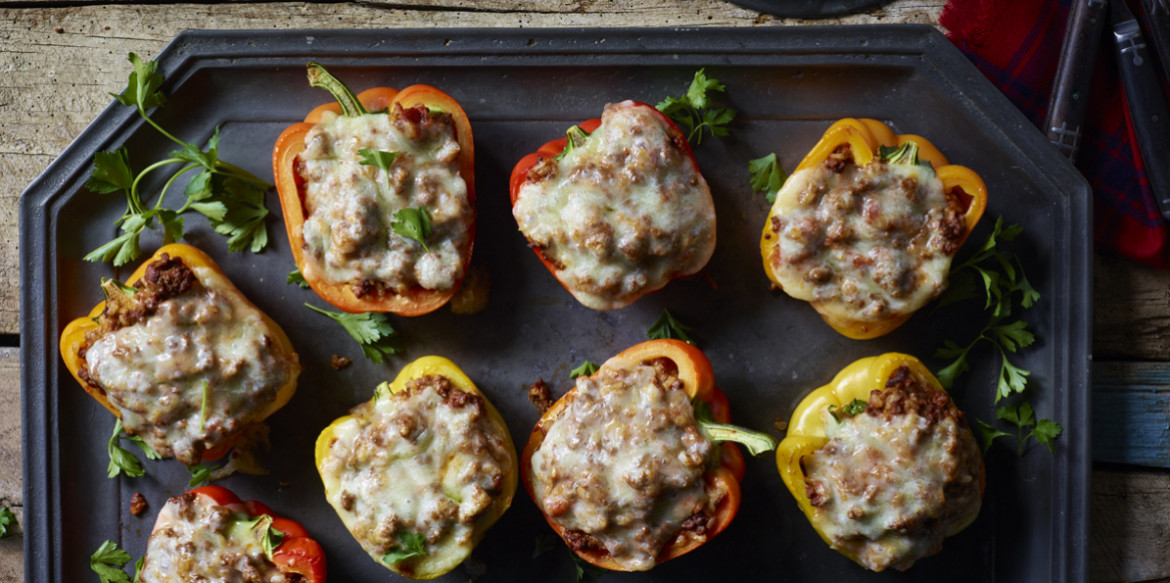 ---
Stuffed and baked peppers have been a staple among many households, but this dish never seems to get old when you're innovating with ingredients and different flavors. Not only are these stuffed peppers deliciously cheesy with melted Sargento® Reserve Series™ Aged White Cheddar on top, but they're beautiful to look at too!
Ingredients
4 medium sized red or yellow bell peppers or a combination
1 lb. lean ground beef
1-1/2 cups tomato basil or marinara spaghetti sauce
1 pouch (8.8 oz.) fully cooked brown rice (or 1-3/4 cups cooked rice)
2 Tbsp. chopped basil or Italian parsley (optional garnish)
Directions
Cut peppers lengthwise in half through stem end; discard seeds. Place pepper halves in a large microwave-safe bowl. Cook uncovered in microwave oven at high power 5 minutes or until crisp-tender.
Meanwhile, brown ground beef in a skillet over medium heat; pour off drippings. Add spaghetti sauce and rice; mix well and cook 1 minute. Remove from heat; stir in 1-1/4 cups cheese.
Drain pepper halves; arrange cut sides up in a 13 x 9-inch baking dish. Spoon meat mixture into pepper halves. Bake in preheated 375°F oven 20 minutes or until heated through; top with remaining 1/2 cup cheese. Top with basil, if desired.
---