Zucchini & Cheddar Ciabatta Frittata
Prep Time: 20 Min | Cook Time: 45 Min | Servings: | Calories: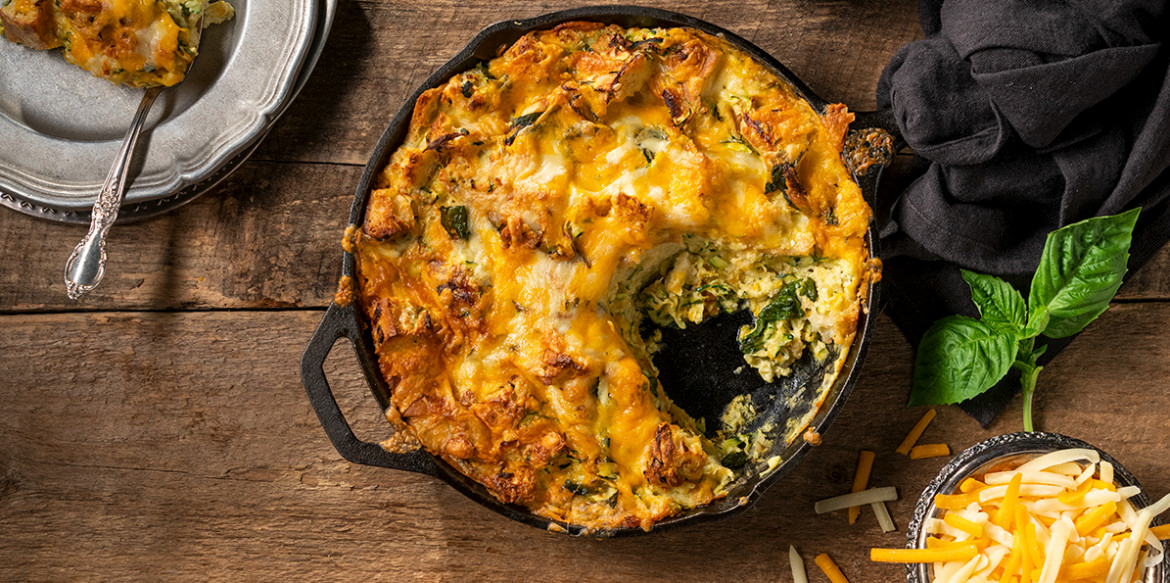 ---
Need an easy, cheesy meal? This dish can be made days in advance, then placed in the oven for an easy week or weekend meal. Its a great breakfast, brunch, lunch or dinner option.
Ingredients
6 cup Ciabatta bread, roughly torn
¾ cup Whole Milk
1 cup Heavy Cream
3 clove Garlic, pressed through a garlic press
6 each Eggs, lightly beaten
1 tsp Ground Cumin
8 oz. Sargento® 4 State Cheddar® Cheese, divided in half
4 cups Zucchini, grated
1 ¼ cups Fresh Basil leaves, torn
2 Tbsp Cooking OIl of Choice
Directions
Preheat the oven to 400 degrees F.
Put the ciabatta, milk and cream into a medium bowl and mix well. Cover and set aside for 30 minutes, for the bread to absorb most of the liquid.
Put the garlic, eggs, cumin and 4 oz of cheese into a separate large bowl with salt and pepper. Mix well, then add the bread and any remaining liquid, followed by the grated zucchini and basil. Stir gently.
Place an 8 x 10 inch baking dish in the oven for 5 minutes, until hot. Remove from the oven, brush with the oil, and pour in the frittata mix. Even out the top, and bake for 35 minutes. Sprinkle the last of the remaining 4 oz cheese evenly on top of the frittata, then bake for another 5-10 minutes, until the frittata is cooked through – a knife inserted in the center should come out clean – and the top is golden-brown. Set aside for 5 minutes, then serve.
TIP: If you make this a few days ahead, place dish into a cold oven and then turn the oven temperature to 400 degrees.  This allows it to come to an even temperature before baking.   
---