Veggie Breakfast Sandwich Hack Recipe
Prep Time: 10 Min | Cook Time: 10 Min | Servings: | Calories: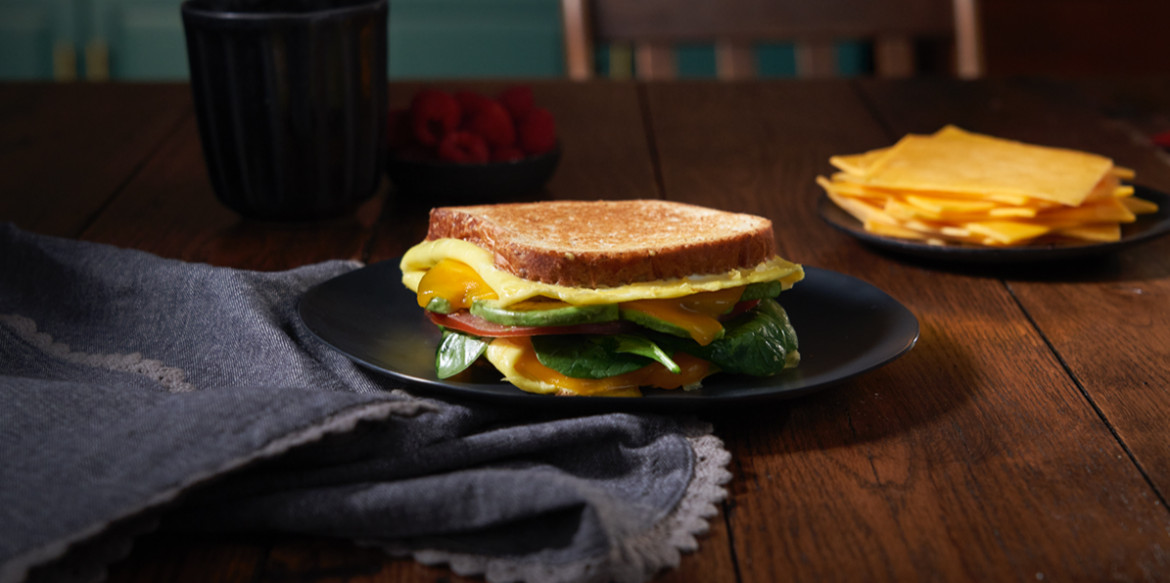 ---
This one pan breakfast sandwich is super easy, super delicious and loaded with Sargento® Cheese Slices.
Ingredients
2 lg. Eggs, beaten
2 Tbsp. Milk
Salt & pepper, to taste
2 Slices Whole grain bread
1 Tbsp. Butter, softened
½ cup Baby spinach leaves
2 slices Sargento® Cheddar Cheese
4 slices Tomato
4 slices Avocado
Directions
Butter one side of each slice of bread with butter. Set aside.
Pre-heat a large non-stick pan over medium-low heat. In a small bowl, combine eggs, milk, salt and pepper. Pour mixture into the pan. Place both slices of bread buttered side up side by side in the center of the pan over the eggs.
Using a large, non-stick spatula, gently loosen the egg under the bread. Slide the spatula under the bread and quickly flip the egg and bread. Fold the egg up over the top of the bread. Place one slice of cheese on each slice of bread over the egg. Place the leaves of spinach over one slice of bread. Place the tomato slices over the spinach. Place the slices of avocado over the slices of tomato.
Lift the slice of bread with egg and cheese up and over the other slice of bread with the toppings on it to create a finished sandwich. Lightly press the spatula down on the top of sandwich. Cook for another minute or until bread is golden brown on each side. Flip sandwich if top is not well browned.
Transfer sandwich to plate, cut in half and serve.
---