Leftover Easter Sandwiches Recipe
Prep Time: 10 Min | Cook Time: 20 Min | Servings: | Calories: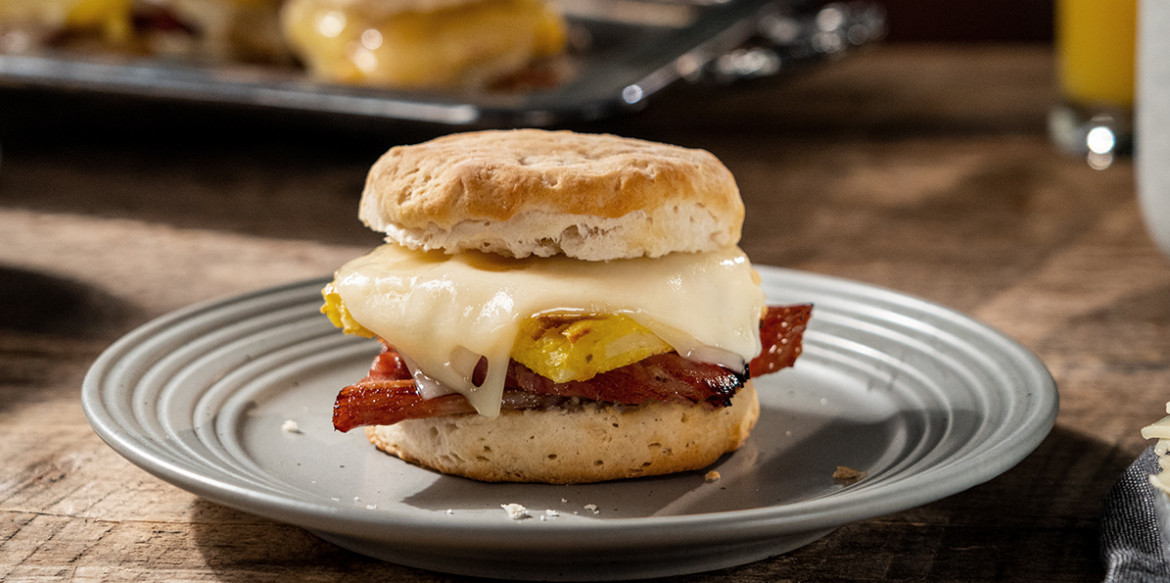 ---
These breakfast biscuit sandwiches are the perfect way of reliving all the flavors of Easter brunch the next day. Maple glazed carved ham is pan-fried, then piled onto fluffy biscuits with warm cheesy potatoes mixed with egg and topped with Sargento® Swiss Cheese Slices, then baked.
Ingredients
1 tsp. Vegetable oil
8 ozs. Leftover baked ham slices, cut into pieces
1 Tbsp. Maple syrup
½ cup Leftover cheesy potatoes
2 lg. Eggs, beaten
4 ea. Fluffy biscuits, split
Directions
Pre-heat a large skillet over medium heat. Add oil and ham slices. Cook ham for 2-3 minutes or until lightly browned.
Drizzle maple syrup over ham, then flip pieces of ham with a pair of tongs, sliding ham slices along bottom of pan to evenly distribute syrup onto ham pieces. Cook another 1-2 minutes or until golden brown. Transfer ham to a plate and set aside. Repeat with remaining ham pieces if necessary.
Meanwhile, for potatoes, combine potatoes and egg in a small bowl. Stir until well blended. Spread mixture into a greased, square microwaveable pan. Microwave for 2-3 minutes or bake until mixture is firm. Let cool for 1 minute. Cut into squares slightly bigger than the biscuit and set aside.
To assemble: Pre-heat oven to 250 degrees. Place 2 pieces of reserved ham on the biscuit bottom. Place one square of potato and egg mixture over ham. Place a slice of cheese over egg. Place biscuit sandwiches on a baking sheet and transfer to warm oven. Keep in oven 10 minutes or until ready to serve.
---