Eggs Ranchero Supreme
Prep Time: 10 min | Cook Time: 30 min | Servings: 4 | Calories: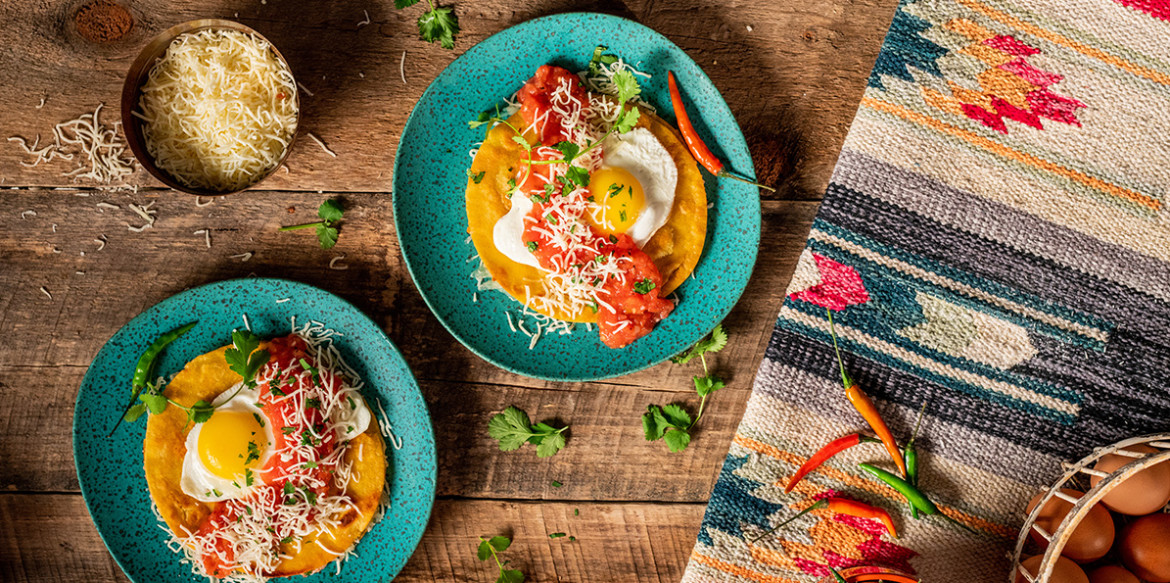 ---
Great to serve for brunch or breakfast-for-dinner night, these festive egg rancheros have a simple homemade salsa that livens things up. The eggs sit on bean quesadillas with melty Sargento® Shredded Monterey Jack Cheese.
Ingredients
4 Roma Tomatoes
1 Serrano Chili
1/8 Onion
2 Garlic Cloves
1/2 cup Refried Pinto Beans
8 Corn Tortillas
1 cup Sargento® Shredded Monterrey Jack Cheese
8 large Eggs
4 tbsp. Cilantro, chopped
Vegetable Oil
Salt and pepper to taste
Directions
Salsa: Heat a skillet on medium high heat for 5 minutes. Place tomatoes, chili, onion and garlic, turning occasionally until skins are lightly charred, remove from heat and place in blender or food processor, pulse until you obtain a sauce with a chunky consistency. Season with salt and pepper to taste and reserve covered to keep warm.
Quesadilla: Take 4 tortillas and spread 2 tbsp of re-fried beans on top of each one, sprinkle the cheese on top of the four tortillas with beans, top each tortilla with beans and cheese with another tortilla. Heat ½ tbsp. of oil in a skillet on medium heat and fry each "bean quesadilla" on both sides until lightly browned, and until cheese is melted. Remove from heat and reserve.
Eggs: Crack 2 eggs at a time, and fry sunny side up in 1 tbsp of hot oil, season with salt to taste.
Assembly: Place each bean quesadilla on a dish, top with enough ranchero salsa to cover the egg whites (do not cover the yolks), sprinkle with freshly chopped cilantro and serve. Enjoy!
---