Brunch Enchiladas
Prep Time: 15 min | Cook Time: 50 min | Servings: 8 | Calories: 239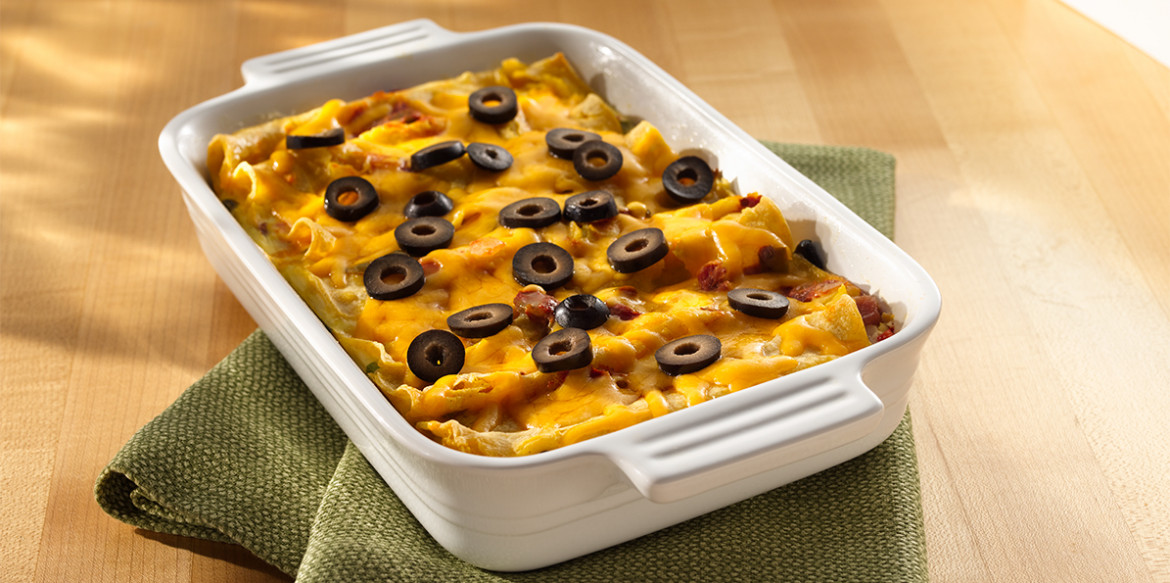 ---
This brunch recipe will be a hit at your next family gathering, so get ready to dig into this lovely baked pot of cheesy enchiladas with a breakfast twist. Once you combine the fresh ingredients and layer them with hearty corn tortillas, Sargento® Shredded Mild Cheddar Cheese - Traditional Cut is just what these enchiladas call for once it's melted into the layers and baked to perfection.
Ingredients
1/4 pound ham, chopped
2 green onions, thinly sliced
1/3 cup chopped bell pepper
1/2 cup chopped ripe olives
8 corn tortillas (6-inch)
4 eggs
1-1/2 cups milk
1/4 cup salsa
1 Tbsp. all-purpose flour
2 Tbsp. sliced ripe olives (optional)
Directions
In small bowl, combine 1 cup cheese, ham, green onions, bell pepper and chopped olives. Soften tortillas according to package directions. Divide cheese mixture evenly among tortillas; roll and place seam-side down in greased 11x7-inch baking dish.
Beat together eggs, milk and salsa; whisk in flour. Pour over tortillas; cover and refrigerate overnight.
Bake, covered, at 350°F 45 minutes or until set. Uncover; add remaining cheese and olives, if desired.Bake 5 minutes more or until cheese is melted.
---