Breakfast Strata Recipe
Prep Time: 10 MIN | Cook Time: 60 MIN | Servings: 4 | Calories: 1520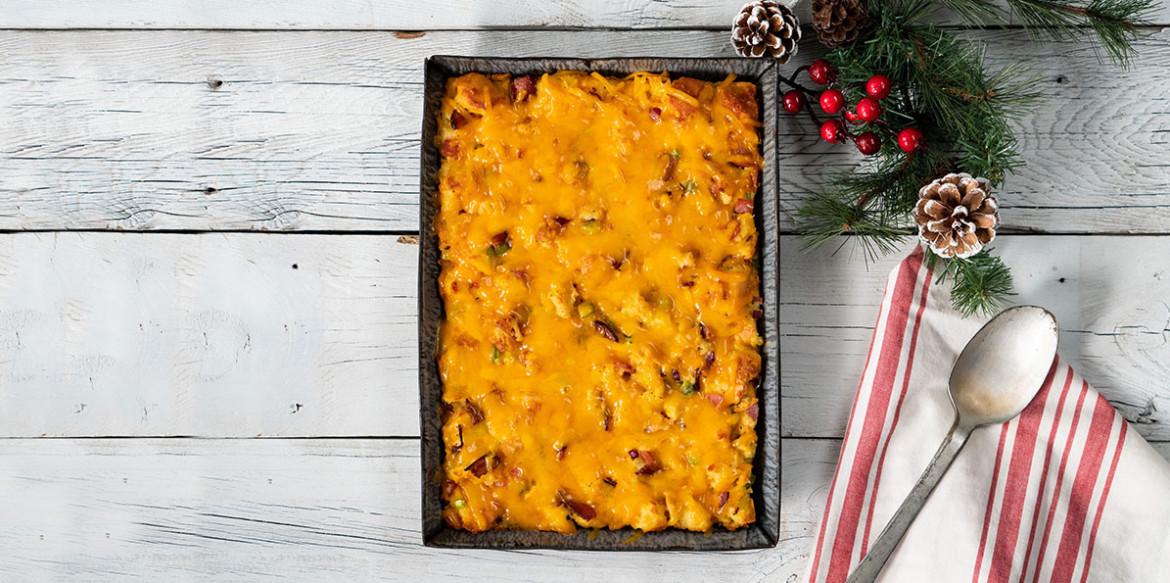 ---
Make this breakfast dish the night before, then pop it in the oven the next morning for a brunch your family will love waking up to. It's a delicious egg-dish medley of ciabatta bread, bacon, ham, smoked sausage and veggies with the robust flavor of Sargento® Sharp Cheddar.
Ingredients
8 Eggs, beaten
1 1/2 cups Half & half
6 cups Ciabatta bread, torn into 1" pieces
2 cup Sargento® Shredded Sharp Cheddar Cheese, divided
1/2 cup Green pepper, chopped
1/2 cup Red onion, diced
1/2 cup Celery, diced
1/2 cup Bacon, cooked and crumbled
1/2 cup Ham, diced
1/2 cup Smoked sausage, diced
1/4 cup Parsley, chopped
1 tsp. Kosher salt
1/2 tsp. Pepper
Directions
In a large bowl combine eggs and half & half. Fold in remaining ingredients and half of cheese.
Transfer mixture to a greased 2 qt. casserole dish. Cover strata and refrigerate for 4 hours or overnight.
Pre-heat oven to 375 degrees. Remove cover from dish. Bake uncovered for 1 hour or until strata has set completely. Remove from oven, top with remaining cheese and bake an additional 10 minutes or until cheese is melted. Remove from oven, cut into serving size pieces and serve.
---