Bacon, Gouda & Black Bean Breakfast Sandwiches
Prep Time: 15 min | Cook Time: 25 min | Servings: 4 | Calories: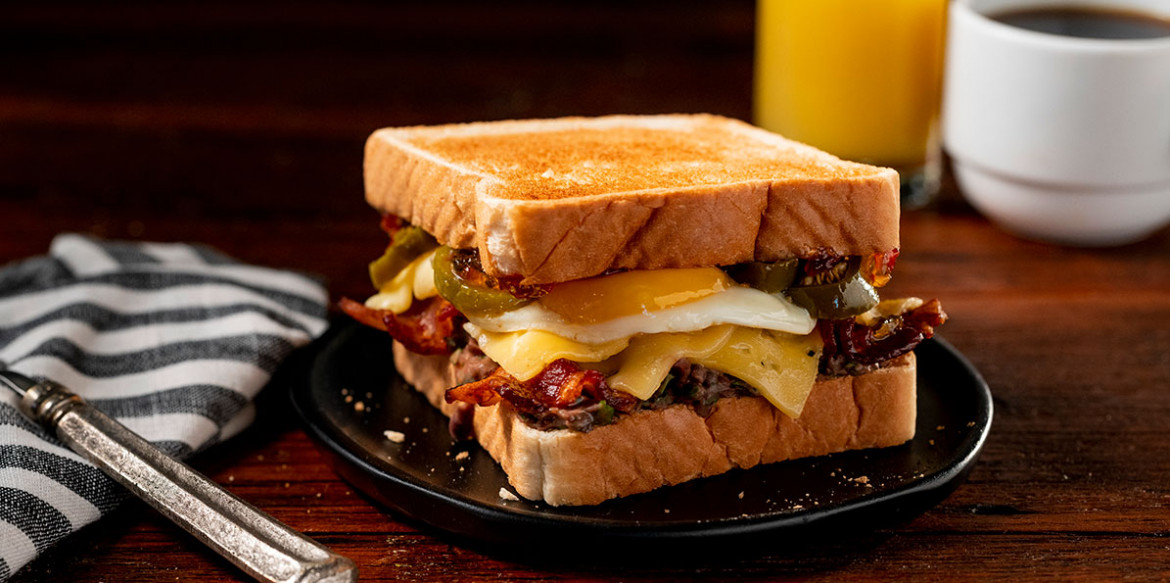 ---
A hearty breakfast sandwich loaded with a black bean spread, bacon, aged Gouda, perfectly cooked eggs and jalapeno served on golden Texas toast.
Ingredients
15 oz can Black beans, rinsed and drained
3 Tbsp. Chopped fresh cilantro
2 Tbsp. Lime juice
1 tsp. Smoked paprika
8 slices Whole grain bread
1/4 cup Jalapeño jelly
1 Tbsp. Butter
4 ea. Large eggs
12 slices Thick-cut bacon, cooked according to package directions and cut into half
Directions
Place beans, cilantro, juice & paprika in a food processor bowl and process until smooth, adding a little water if the beans are too thick – they need to be thick but spreadable. Cover and set aside.
Toast the bread until golden. Place toasts on a cutting board. Spread half the toast with jalapeno jelly and spread the other half liberally with the black bean mixture. Reserve any leftover black bean mixture for a dip or tacos.
In a large, non-stick skillet melt butter over medium heat. Carefully crack the eggs into skillet, sprinkle with salt and cook to desired doneness.
Top the black bean toasts with bacon. Add two cheese slices on top of bacon. Top bacon with eggs. Add jalapeño slices. Top with jalapeno jelly toast.
---