Triple Parmesan Kale Caesar Salad Recipe
Prep Time: 15 min | Cook Time: 10 min | Servings: 4 | Calories: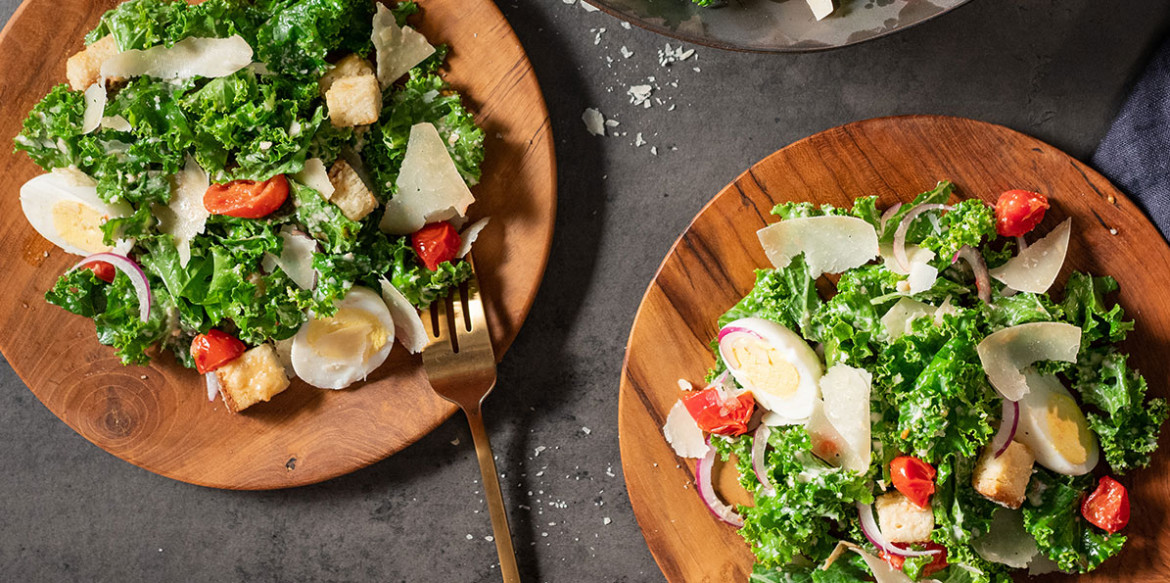 ---
The Caesar salad has been a classic for over 90 years. This version adds a healthy twist by substituting kale for romaine. It doesn't skimp on decadence however, by using Sargento® Reserve Series™ Shaved 14-Month Aged Parmesan Cheese in 3 different ways. In the dressing, on the croutons and sprinkled on top!
Ingredients
1/2 cup Extra virgin olive oil, divided
3 Tbsp. Fresh Lemon Juice
2 Large Garlic clove, peeled, smashed, divided
1 Tbsp. Dijon Mustard
1 Tbsp. Red Wine Vinegar
2 ea. Anchovy Fillets
1/2 tsp. Kosher Salt
1/4 tsp. Ground Black Pepper
2-3 slices Gluten Free Bread, cut into cubes
1/2 cup Grape Tomatoes, halved
5 cups Chopped kale, washed and dried
1/4 cup Red Onion, cut into strips
3 ea. Hard Boiled Eggs, peeled and halved
Directions
For Dressing: Add 1/2 cup Sargento® Reserve Series™ Shaved 14-Month Aged Parmesan Cheese, 1/3 cup of olive oil, lemon juice, 1 garlic clove, mustard, vinegar, anchovy, salt and pepper to a personal blender or small food processor. Cover and blend until smooth and thick. Transfer dressing to a small bowl and set aside until ready to dress salad.
For croutons, pre-heat oven to 400 degrees. In a small saucepan, heat remaining 2 tablespoons of oil over low heat. Add remaining garlic clove. let oil and garlic warm for 5 minutes, swirling pan occasionally. Remove garlic with a fork and discard. Add oil to a medium size bowl. Add bread cubes and 2 Tbsp. of cheese. Toss well to coat. Transfer mixture to a greased baking sheet. Add tomato halves to the bowl and toss to coat with any remaining oil and cheese. Add to pan with bread cubes. Toast bread cubes and tomatoes for 15 minutes until they are golden brown. Remove from oven and let cool completely.
To assemble salad, combine kale, 1/2 cup of remaining cheese and dressing in a large bowl. Toss to coat. Gently fold in croutons and tomatoes and any toasted parmesan pieces. Sprinkle onion strips, hard boiled egg and remaining parmesan on top. Serve.
---