Stuffed Brat Slider Recipe
Prep Time: 20 min | Cook Time: 44 min | Servings: 10 | Calories: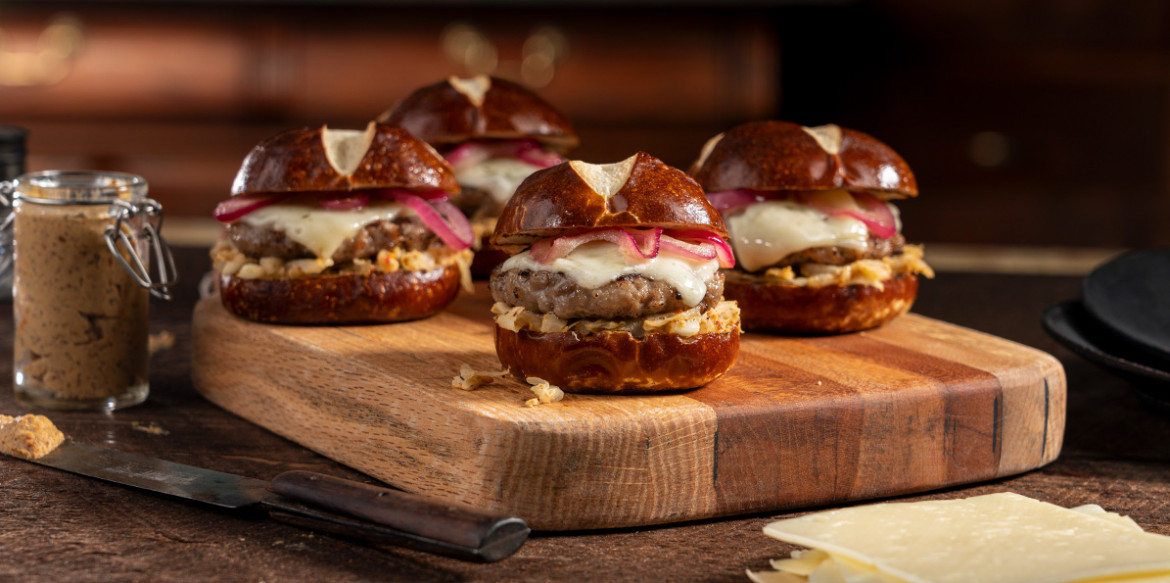 ---
It's football season, which means plenty of tailgating and football parties. Take all the work out of it by making these tasty brat sliders ahead of time, then warm them up in the oven and top them with delicious Sargento Baby Swiss Cheese. No need to miss the party or the game.
Ingredients
1/2 cup sauerkraut, drained and rinsed
1 cup onion, diced
2 Tbsp. spicy brown mustard
10 ea. fresh bratwurst, casings removed
1 can light beer
1 medium onion, thinly sliced
20 mini brioche buns, split
Optional: pickled onions
Directions
Finely chop sauerkraut.
In a small bowl, combine onion, sauerkraut and mustard. Set aside.
Divide brat meat into 20 equal portions and form into thin patties.
Spoon about 2 tsp. of onion mixture into the center of each brat patty. Pinch meat together around onion mixture to form a ball. Press ball into a small patty. Transfer to a lined sheet pan and continue with remaining brat patties and mixture.
Grill patties over high heat for about 1-2 minutes per side.
Transfer grilled patties to a 13" x 9" pan. Pour beer into pan and top with sliced onions. Cover pan with foil.
Bake patties in a 300 degree oven for 30 minutes or until meat is no longer pink on the inside.
Remove foil, place Sargento® Sliced Baby Swiss Cheese over patties and bake uncovered for 10-15 minutes or until cheese is melted.
Transfer patties to mini brioche buns and enjoy!
---