Southern Garlic Mash Potatoes & Cheese Sauce Recipe
Prep Time: 15 | Cook Time: 50 | Servings: 8 | Calories: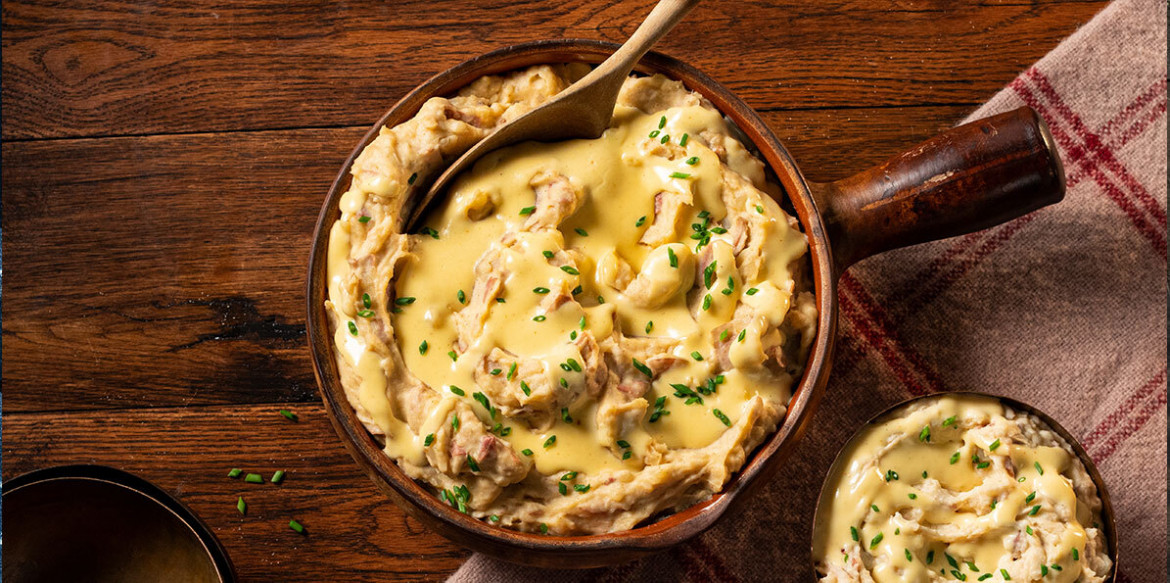 ---
The perfect side dish for holiday gatherings, these rich, creamy—and okay, decadently delicious—mashed potatoes are a big hit. The sauce includes Cajun seasoning and robust Sargento® 4 State Cheddar cheese.
Ingredients
2 lbs. Baby red potatoes
1 Tbsp. Cajun seasoning
1 ½ Tbsp. garlic powder
White pepper, to taste
½ cup Heavy cream
1/3 cup Salted butter, softened
1/3 cup Sour cream
1 Tbsp. Chives
1 cup Heavy Whipping Cream
Directions
Dice potatoes into cubes. Place potatoes in a large pot (6-quart) and cover with cold, salted water. Bring to a boil, reduce heat to medium and cook until tender.
Drain cooked potatoes. Add in the heavy cream, butter, Cajun season, white pepper, Pepper Jack cheese, chives and sour cream and mix well with a wooden spoon.
Mash the potatoes with a potato masher until smooth, adding a little extra milk if needed. Add in the garlic, salt and pepper to taste.
FOR SAUCE: In a skillet on medium heat, add whipping cream and allow to come to a simmer. Add in a dash of Cajun seasoning and 4 State Cheddar cheese a little at a time until your sauce is creamy.
---