Slam Dunk Party Sandwich Recipe
Prep Time: 20 min | Cook Time: 75 min | Servings: 10 | Calories: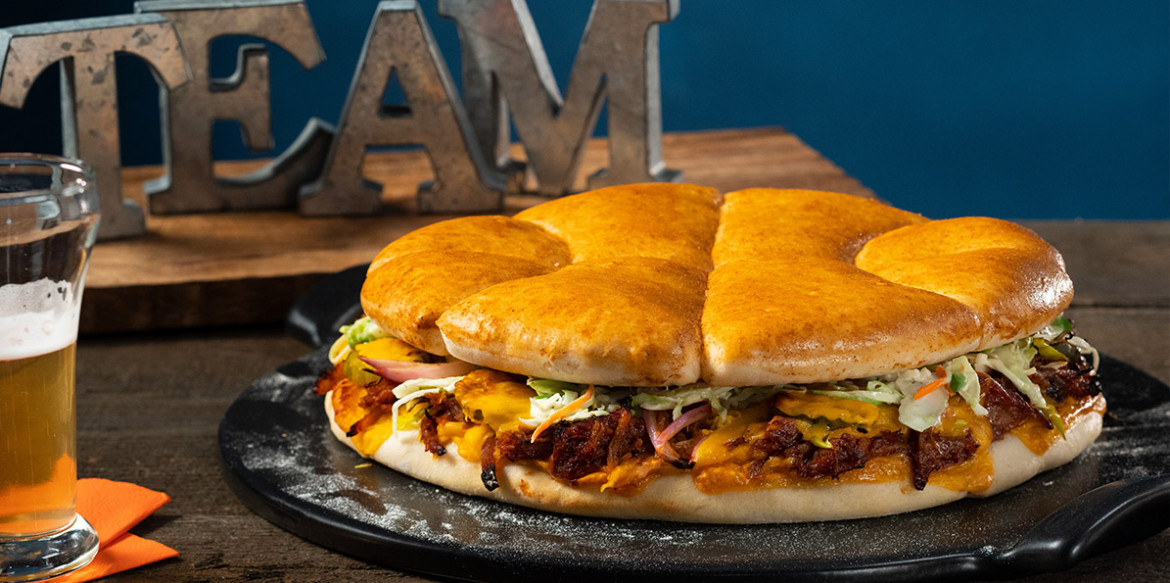 ---
It's time to up your culinary game. This party sandwich is loaded with ingredients that are sure to keep your hungry fans happy. Pizza dough is cut into the shape of a basketball, colored with paprika, then filled with pulled pork, shaved onions, pickle slices and buckets full of Sargento® Sliced Cheddar Cheese. Finished with jalapeno slaw.
Ingredients
24 oz. Pizza dough, divided
1 tsp. Paprika
1 Egg, beaten
1 lb. Pulled pork, prepared with BBQ sauce
1 Red onion, cut into strips
1 jar Pepperocini peppers, seeded, finely chopped
1 cup Dill pickle slices
3 cups Cole slaw mix
1 Jalapeno pepper, seeded, finely chopped
1/3 cup Ranch dressing
Directions
In a medium size bowl, combine ranch dressing and chopped jalapeno. Add shredded cole slaw mix. Fold mixture together until well coated. Cover and refrigerate until ready to assemble.
Lightly flour a clean, flat surface. Roll each portion of dough into a 12" round.
To cut the dough into a basketball shape: Spray the round area of a pizza cutter with non-stick spray. Cut a vertical and horizontal line through the center of both dough rounds, creating 4 equal sections with an X in the middle. Cut a slightly curved line through each section so that the cuts resembles the seams of a basketball. Transfer both groupings of dough sections to 2 floured 12" pizza pans. Cover one with a towel and place in a warm area to rise for 30 minutes.
Meanwhile, to prepare the bottom section of sandwich, layer half of the cheese slices over the remaining dough round. Top with all of the pulled pork, the red onion strips, the sliced peppers and pickle slices. Top with the remaining cheese. Set pan aside.
Pre-heat oven to 375 degrees.
In a small bowl, combine beaten egg and paprika. Stir to combine. Brush the entire top of one basketball shaped round with the paprika mixture. This piece will be the top of the sandwich. Set aside.
Place both pans in the oven. Bake for 15 minutes or until the "top" is browned and set. Remove top and let cool completely.
Bake remaining half of sandwich for an additional 10-15 minutes or until dough is baked through and toppings are hot and cheese is well melted. Remove from oven. Spoon prepared coleslaw mixture over melted cheese. Carefully transfer cooled top over coleslaw. Cut through sections to allow for easy serving. Serve.
---