Sausage Wreath Recipe
Prep Time: 30 Min | Cook Time: 25 Min | Servings: | Calories: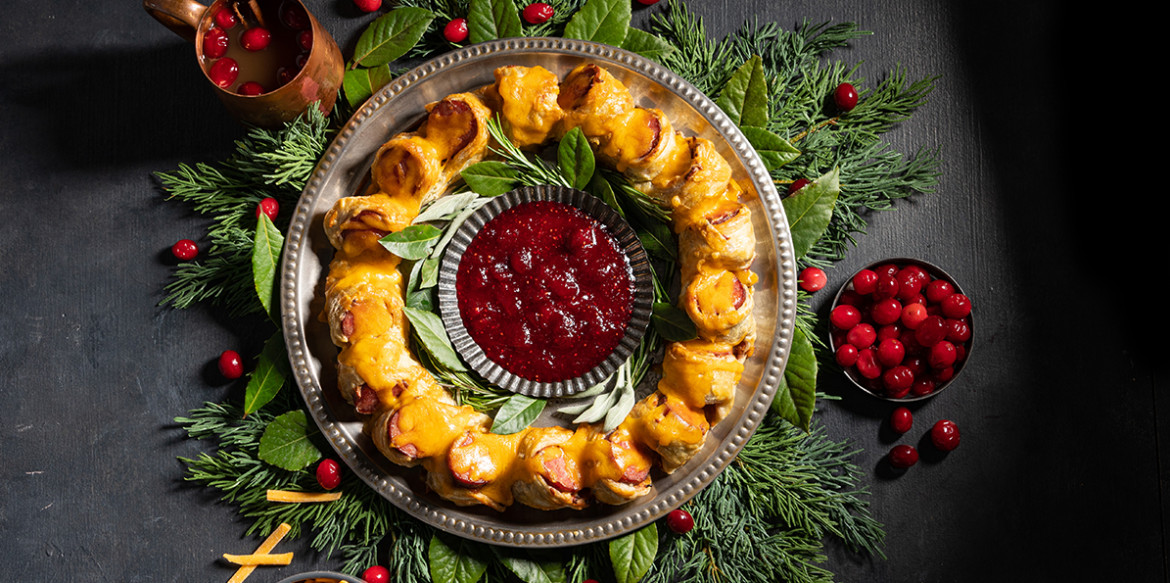 ---
Smoked kielbasa slices are enrobed with puff pastry with raspberry jam, and shredded Sargento® Shredded Mild Cheddar. The sausage stuffed pastry is partially sliced pieces, brushed with egg and baked until golden brown. Served with a cranberry orange dipping sauce.
Ingredients
2 cups Fresh or frozen cranberries
½ cup Sugar
½ cup Orange juice
1 cup Water
16 ozs. Smoked kielbasa, cut into 1 ½" pieces
1 sheet Frozen puff pastry, thawed, cut into 3 equal strips
2 Tbsp. Seedless raspberry preserves
1 lg. Egg, beaten
Directions
Pre-heat oven to 375 degrees. In a medium saucepan, combine cranberries, water, orange juice and sugar. Bring to a boil, then reduce heat and simmer for 20 minutes, stirring occasionally. Transfer to a container, cover and refrigerate for 1 hour or until chilled.
Place puff pastry strips side by side and attach ends by pressing dough together. Brush top of the long pastry strip with raspberry jam to within ¼" of the edges. Brush edges with egg. Sprinkle a thin line of cheese down center of pastry.
Place sausage slices side by side down center of pastry strip. Bring edges together and seal by pressing together.
Transfer sausage stuffed pastry to a large baking sheet lined with parchment paper, seam side down. Form into a ring and press ends together. Cut in between each sausage ¾ way through and twist each piece so the sausage is visible.
Brush pastry with egg. Bake for 25 minutes or until lightly browned. Remove from oven and sprinkle remaining cheese on top. Bake an additional 5-10 minutes or until cheese has melted. Remove from oven, transfer to a platter and serve with reserved sauce.
---