One Pan Dips Recipe
Prep Time: 30 Min | Cook Time: 20 Min | Servings: | Calories: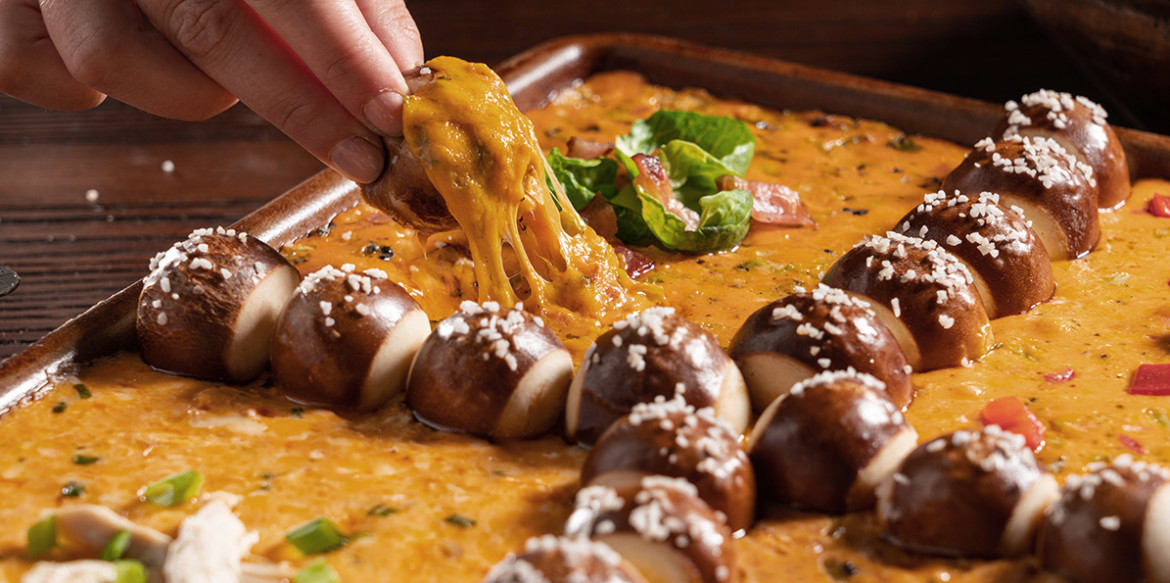 ---
Four incredibly cheesy, creamy and delicious dips are all featured in one pan along with chewy pretzel balls. The perfect dip for everyone at your next party.
Ingredients
24 ea. Pretzel balls
BUFFALO CHICKEN CHEDDAR DIP
8 ozs. Cream Cheese, softened
3 Tbsp. Buffalo wing hot sauce
1 ¼ cups Rotisserie chicken, pulled
¼ cup Chopped green onion
BRUSSELS SPROUT BACON DIP
10 small Brussels sprouts, quartered
1 Tbsp. Mayonnaise
8 ozs. Cream Cheese, softened
6 slices Bacon, cooked and crumbled
CHORIZO, CHILE & CHEESE DIP
8 ozs. Chorizo sausage
8 ozs. Cream cheese, softened
1 can Diced green chilies(4 ozs.)
VEGGIE DIP
8 ozs. Cream cheese, softened
1 cup Broccoli florrets, blanched and chopped
¼ cup Roasted red pepper, chopped
¼ cup Red onion, diced
¼ cup Sun-dried tomato, diced
Directions
For Buffalo Chicken Dip: In a medium size microwave safe bowl, combine cream cheese and hot sauce. Microwave for 45 seconds. Stir mixture until smooth. Fold in pulled chicken and cheese. Set aside.
For Brussels Sprout Bacon Dip: Pre-heat oven to broil. Combine brussels sprouts, mayo, salt and pepper in a small bowl. Toss to coat, then spread on a greased baking sheet. Place on top rack of oven 4-6 inches from heating element. Broil for 3-4 minutes or until slightly charred, and crisp tender. Remove from oven and let cool completely. Chop sprouts into small pieces. Set aside. In a medium bowl, stir together cream cheese, cheddar cheese, chopped brussels sprouts and bacon. Set aside.
For Chorizo, Chile & Cheese Dip: Pre-heat a medium saucepan over medium heat. Add chorizo and cook, stirring often until pork is cooked through and fat has been rendered. Transfer meat to a strainer placed over a bowl. When completely drained, transfer chorizo to a bowl. Add cream cheese to chorizo and stir until blended. Fold in chilies and 3-cheese Mexican blend. Set aside.
For Veggie Dip: In a medium bowl, combine cream cheese and remaining ingredients. Stir until well blended. Set aside.
To Assemble Dips: Pre-heat oven to 300 degrees. Place pretzel balls in a straight line running both horizontally and vertically in the center of a large baking sheet with a 1 inch lip forming an + in the center. Spoon prepared dips in each of the 4 sections. Bake for 10-15 minutes or until dips have melted. Remove pan from oven and serve.
---