Love Note Pastries Recipe
Prep Time: 30 Min | Cook Time: 25 Min | Servings: | Calories: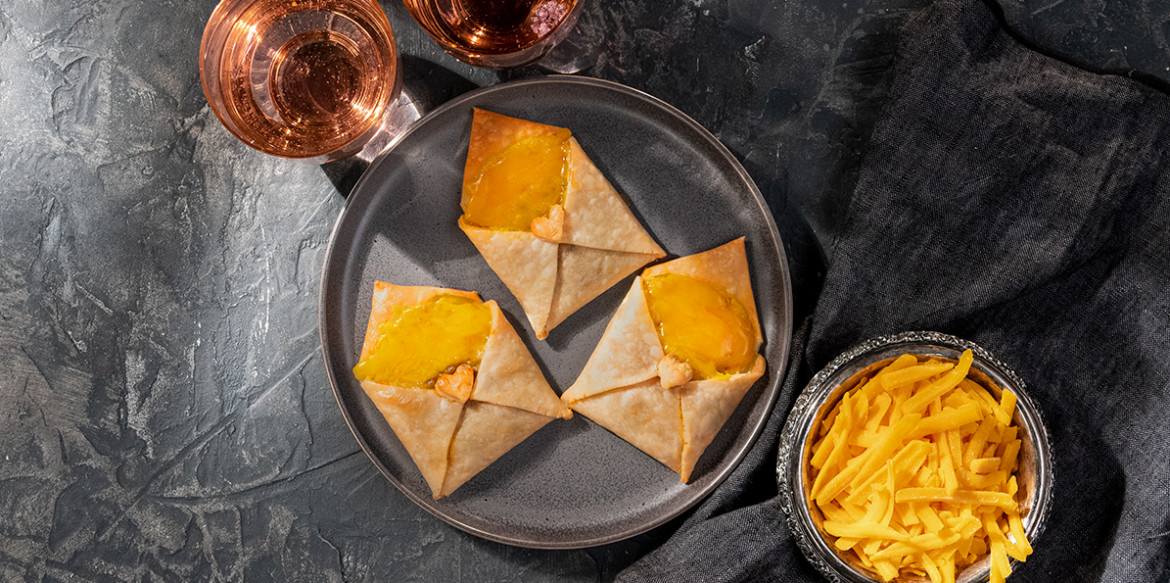 ---
These love letters will put a smile on that special someone's face. Especially when they realize they are not only edible, but filled with bacon, fig jam, and shredded Sargento® Sharp Cheddar Cheese.
Ingredients
2 9" Refrigerated pie dough rounds, room temperature
¼ cup Fig or apricot jam
1 cup Crumbled bacon
1 lg. Egg, beaten
Directions
Pre-heat oven to 400 degrees. Unroll pie dough and roll out to 10" with a rolling pin.
Using a 3" square paper template or cookie cutter, cut out 3 squares from each pie pie dough round. Roll remaining dough into balls and roll out into 1/8" rounds with a rolling pin. Cut out remaining squares.
Cut very small triangle notches from the center of each side. This will allow you to get a good seal on your love notes when you fold them. Set squares aside while making bacon spread.
For bacon spread, warm fig jam in a small bowl. Add crumbled bacon and stir until mixture resembles a sticky paste.
To assemble love notes: Position squares so a point of the square is facing down. Brush egg along every edge of each square. Spread about 1 tablespoon of the bacon and jam mixture into the center of each square and spread into a square shape. Repeat steps with remaining pie dough, egg and bacon mixture. Place about 2 tablespoons of cheese in the center over jam. Fold squares into envelopes, by folding bottom up to the cut notches on the sides. Fold in each side overlapping the edges from the bottom fold. Press to seal. Repeat with remaining love notes. Place love notes on a parchment lined baking sheet. Brush the top of the love notes with egg, avoiding the filling.
Bake for 20-25 minutes or until golden brown. Remove from oven and let cool for 5 minutes before serving.
Optional: cut out small hearts and adhere to center of envelope after pressing sides to seal.
---