Philly Cheesesteak Sliders
Prep Time: 25 MIN | Cook Time: 45 MIN | Servings: 12 | Calories: 430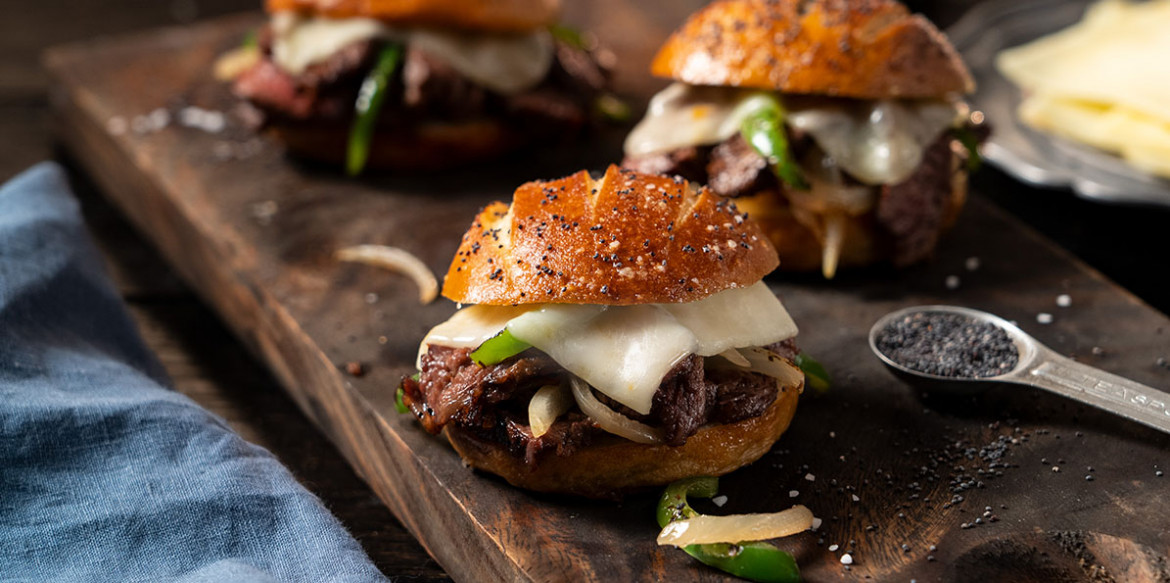 ---
<p>Sargento® Reserve Series™ Aged White Cheddar really amps up the flavor in these tasty sliders. Thinly sliced flank steak is covered with caramelized onions and peppers and melted cheese. Try these with mini pretzel rolls brushed with a honey-mustard butter and topped with a sprinkling of poppy seeds.</p>
Ingredients
3/4 cup Unsalted butter
2 medium Yellow onions, sliced
2 Green bell peppers, sliced
1 pound Flank or skirt steak
1 tablespoon Dijon mustard
1 tablespoon Honey
1 teaspoon Garlic Powder
12 Pretzel slider rolls
1 tablespoon Poppy seeds
Directions
Preheat your oven to 350 degrees F. Line a large baking sheet with foil and spray with a non-stick spray. Set aside.
In a large saute pan, melt 1/4 cup of the butter over medium heat. Add the onions and peppers and cook until caramelized and brown, stirring occasionally, about 10-12 minutes. Remove from heat and set aside.
Preheat a griddle or grill pan over medium-high heat. Spray the flank or skirt steak with a non-stick spray and season generously with salt and pepper. Place the steak on the hot pan and cook until it's cooked to your liking. I cooked mine for 3 minutes on each side for rare. Set aside to rest for a couple of minutes. Once the steak has rest, cut against the grain in VERY thin slices. Set aside.
In a small saucepan, melt the remaining 1/2 cup unsalted butter over medium-low heat. Whisk in the mustard, honey, garlic powder and a dash of salt and black pepper. Cook for 1-2 minutes more and then remove from heat. Set aside.
Take the bottoms of your rolls and place them on the prepared baking sheet. Layer on thinly sliced steak, onions and peppers and cheese. Place the tops of the rolls on top. Brush the tops generously with the melted butter/mustard mixture. Sprinkle on the poppy seeds.
Cover the pan with foil and bake for 15-20 minutes or until the cheese has melted.
Remove from heat and serve immediately. Enjoy!
---