Italian Beef Wrappers Recipe
Prep Time: 10 min | Cook Time: 5 min | Servings: 4 | Calories: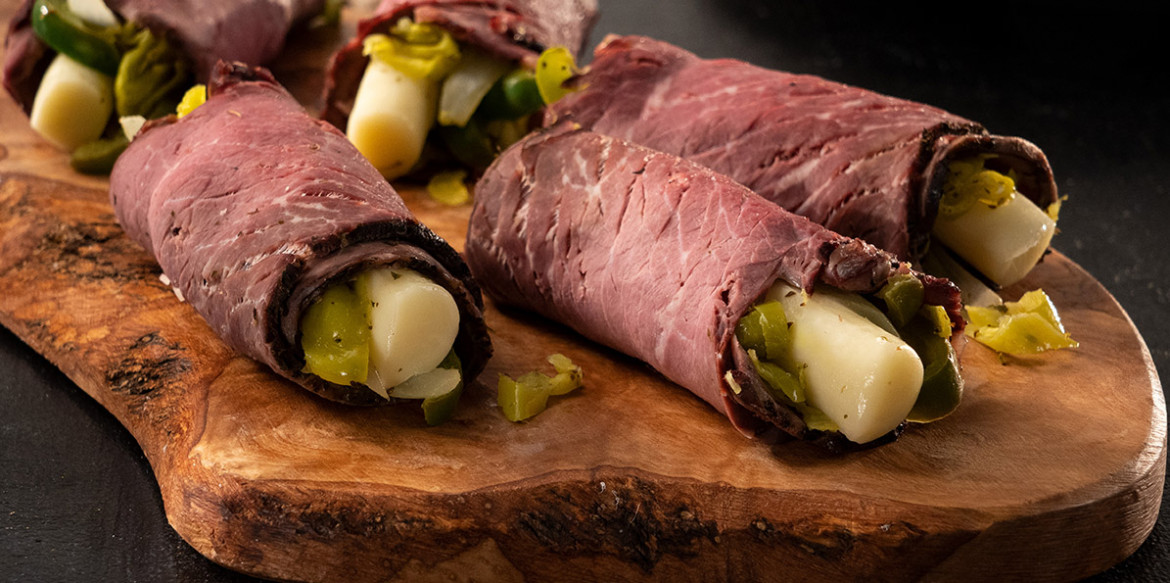 ---
Italian beef sandwiches are fabulous but can be messy and very filling. These Italian Beef Wrappers are easy to make, eat and oh-so tasty. Perfect for your next holiday party. They can also be served cold or warm.
Ingredients
1 tsp. Olive Oil
1/2 cup Green bell pepper, cut into strips
1/2 cup onion, cut into strips
1/2 pepperoncini, thinly sliced
1/2 tsp. Italian seasoning
8 slices Deli Italian beef, 1/8" thick
8 Sargento® Natural String Cheese Sticks
Directions
Pre-heat a medium skillet over medium heat. Add olive oil and next 4 ingredients. Cook for 3-4 minutes or until vegetables are crisp tender. Transfer mixture to a plate and let cool for 15 minutes.
To Assemble: Place 4 slices of Italian beef flat on a cutting board. Place 1 string cheese stick crosswise near the center of each slice of meat. Top with some of the pepper and onion mixture. Fold one side of the beef over the cheese and vegetable mixture, then roll the beef slice up, leaving seam side down. Transfer rollups to a serving plate.
Note: Wrappers can be served warm by placing rollups on a foil lined baking sheet and baking for 5 minutes in a 250 degree oven.
---