Homemade Twisted Cheese Bread
Prep Time: 15 MIN | Cook Time: 25 MIN | Servings: 8 | Calories: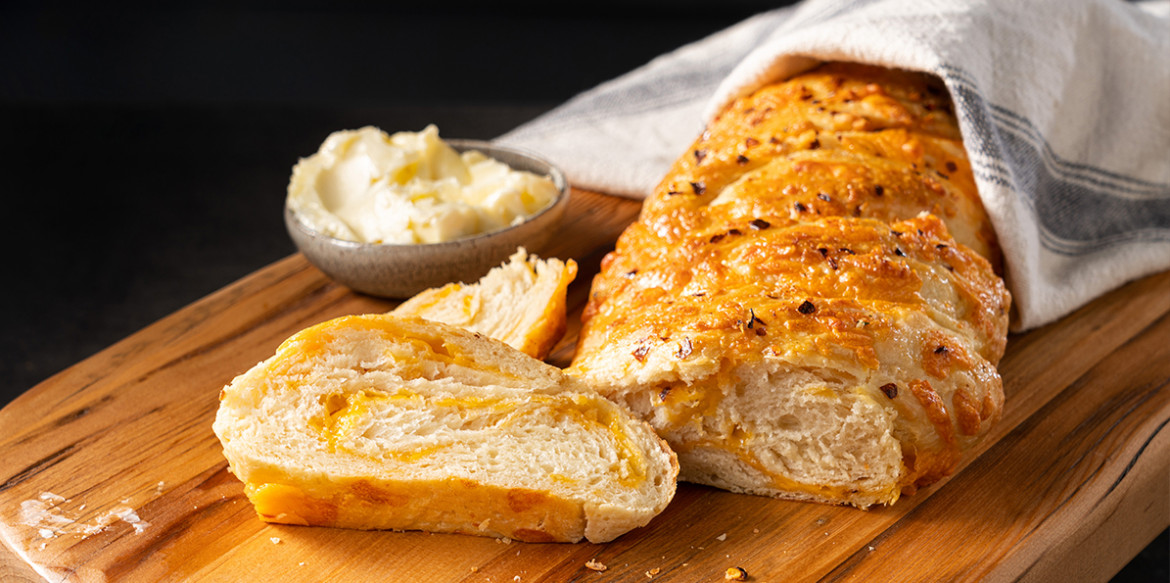 ---
What could be better than warm-from-the-oven, soft and cheesy bread? This one features Sargento® Mild Cheddar Cheese that's sprinkled on the dough along with a nice pinch of crushed red pepper flakes before you twist it up. The garlic salt and another sprinkle of red pepper flakes on top gives a final savory flourish.
Ingredients
1 1/3 cups Water, warmed
1/3 cup Milk, warmed
4 Tbsp. Butter, melted
1 lg. Egg
4 cups(512 g) All-purpose flour
2 Tbsp. Sugar
1 envelope Instant dry yeast(8g.)
2 tsp. Kosher salt
1 lg. Egg, beaten
1 tsp. Crushed red pepper flakes, divided
½ tsp. Garlic salt
Directions
In a medium bowl, combine water and next 3 ingredients. Whisk until blended. Set mixture aside.
In a large bowl, whisk together flour and next 3 ingredients.
Stir water mixture into flour mixture with a spoon until all ingredients are combined and a soft dough is created. Cover and let rise for 40 minutes, or refrigerate overnight.
Pre-heat oven to 350 degrees. Punch down dough and transfer dough to a clean and floured surface.
Roll out dough into a 17" X 12" rectangle. Sprinkle cheese and half of the crushed red pepper over dough to within an 1" of all edges. Rollup dough along the long side. Cut roll lengthwise, leaving the last 2" uncut. Carefully twist dough by bringing one side over the other until dough is one piece again.
Press ends together and carefully transfer twisted dough to a parchment lined baking sheet.
Brush top of dough with remaining beaten egg, then sprinkle remaining red pepper flakes and garlic salt over the top.
Bake for 25 minutes or until golden brown. Let bread cool for 20 min. Slice and serve with soft butter.
---